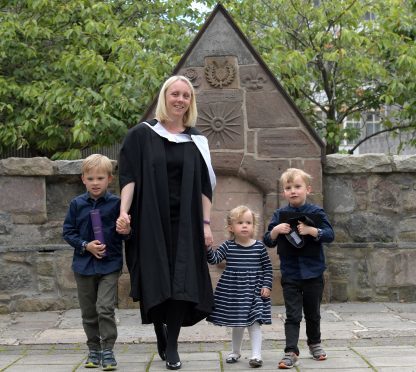 Successfully balancing the challenges of raising a young family, working and studying for a degree has paid off for one Aberdeenshire mum-of-three.
Angela Williamson had to "re-learn" how to study after last graduating 13 years ago, but all her hard work has now been worth it.
The 37-year-old, from Stonehaven, began her Masters course four years ago and has now walked away from the Robert Gordon University with an MSc in Health Safety and Risk Management – and one more family member.
Taking slightly longer to complete her degree, Mrs Williamson took time out to have daughter Neve – a new baby sister for her sons Keir and Rory.
Not one for a quiet life, Mrs Williamson has also been chairwoman of her son's pre-school committee and secretary of Kinneff Primary Parents Group for the past year.
She said: "It was really challenging studying with three young children and working at the same time.
"For a period it felt as if there was little time for anything else, but I was determined to finish and I'm really pleased to have completed my MSc and thrilled to have achieved an A for my dissertation.
She praised the support she received during her time at RGU, after opting to do a distance-learning course to have more flexibility for her children.
Mrs Williamson, a projects HSSE generalist at Shell, was encouraged by her employer, to study for her degree in order to further her career.
She has now been invited to work with the university to develop her dissertation "A critical assessment of behavioural safety management and safety psychology in the UK oil industry" for submission to the Safety Science journal.
Looking forward to the next stage in her career she said: "I definitely won't be doing anymore studying, I'm going to concentrate my efforts now on progressing my career and caring for my family.
"I have been fully supported in my studies by Shell and I hope to use everything I have learned over the past four years in my future career with the company."