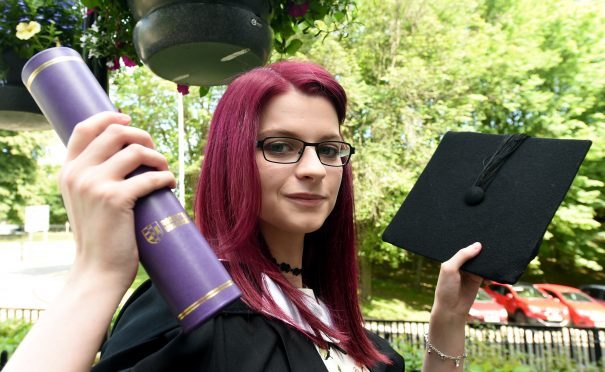 A student with several 'dressing up' trophies to her name donned a different set of robes yesterday as she graduated from Robert Gordon University.
Emma Hobben, 23, from Inverurie is looking forward to a bright future after completing her degree in Biomedical Science with Bioscience.
The keen cosplay participant has made all her own outfits which she wears to attend the many Comic Conventions that happen throughout Scotland and beyond – some winning her awards.
A former pupil of Inverurie, Banff and Banchory Academies – as well as Mediterranean High School in Cyprus – further education in the sciences had been on Miss Hobben's radar for much of her life.
She said: "I'd had my eyes set on university for as long as I can remember and would joke that I was going to run out of school years, so needed more time to finish the subjects I loved learning about.
"Biology and the medical side of science had always appealed to me and this degree has allowed me to use that interest and study a broad spectrum of subjects without pigeonholing me into a particular area of science."
Over the course of her time at RGU, Miss Hobben gained experience in a wide range of scientific topics, such as biochemistry, public health, pharmacology and genetics. This breadth of knowledge was put to good use as part of her individual final year project.
She commented: "That final project was my main highlight of the course, as it allowed each of us to show our own personality and I was able to enter a whole new area of experiments that hadn't been covered previously. It made me feel like my research was leaving a mark at RGU, which was really encouraging."
In addition to her dedicated studying and work throughout her time at university, Miss Hobben was able to continue her personal passion for cosplaying and has won a number of trophies.
With boyfriend and cosplay partner Robert McGhie she built suits of Spartan armour – made famous by the Halo game series – and just last month won the award for Best Construction at PLAY Expo in Glasgow.
Miss Hobben said: "It's been important for me to be able to balance making costumes and competing at conventions with my university work, so I'm really pleased that I've been able to do both so successfully over the past few years."
Looking forward, Miss Hobben is planning to improve her education and prospects further, in the hopes of securing work in conservation or environmental-based science, adding that she now feels "relieved" she made it through her graduation, she said:
"I am delighted with my achievements so far, but hopefully this is just the start. I'm going to spend the next year working, saving up money and learning to drive, which will all help when it comes to finding a job in a field I'm passionate about.
"More importantly, I will also be applying to study a Masters degree, so hopefully my RGU journey isn't over yet. I always did say that I'd never have enough of school."