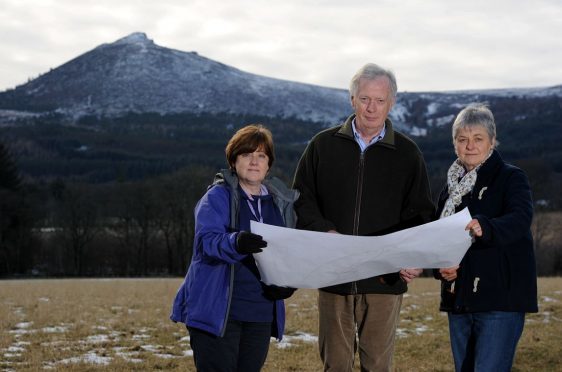 A campaign to protect an most iconic Aberdeenshire landmark from the re-routing of one of the region's busiest roads has won support across the political divide.
Transport Scotland plans to dual the A96 Aberdeen to Inverness road between the city and Huntly.
Two of the potential routes being considered would result in the road passing close to Bennachie Forest, which has sparked an outcry among locals.
As a result of the proposals a campaign group, Save Bennachie, was formed.
The group has now met with all of the north-east's MSPs who have lent their backing to the campaign.
Aberdeenshire East MSP Gillian Martin has already written to Economy Minister Keith Brown to express her concerns about the potential impact on the iconic hills.
Lewis Macdonald, Peter Chapman and Mike Rumbles are among the other MSPs who oppose the routes.
And Gordon MP Colin Clark and Lord Bruce of Bennachie have also pledged their support to the campaign.
Last night, campaign secretary Margaret Garden said the group was delighted people were putting political differences aside.
She said: "From the outset our ethos has been to keep this completely non-political so to achieve this cross-party support is marvellous.
"We wanted to have a positive, constructive campaign  – you're not going to get anywhere by shouting – in order to get across to the consultants the concerns of people in this area.
"The next two years are absolutely crucial for Bennachie because by then the consultants will have come to a decision on the route and once they have it will be nigh-on impossible to change their minds."
Transport Scotland recently awarded Amey Arup Joint Venture with a £50million design contract for the route, with the plans expected to be unveiled in 2019.
The project forms a part of the overall dualling of the road between the city and Inverness with 86 miles due to be upgraded by 2030.
A spokesman added: "As for all our major road schemes, meaningful engagement with communities forms a key part of our work as we develop our plans.
"As we progress to this next stage of development further public consultations will be undertaken as part of our rolling programme of engagement to ensure that communities, businesses and individuals affected by the work are kept fully informed and their vital feedback taken into account, including the concerns expressed by Save Bennachie Campaign."