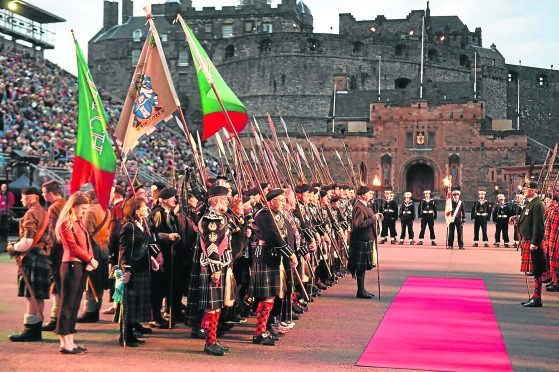 They are a treasured part of the north-east's heritage.
And last night the Lonach Highlanders played a central role in one of Scotland's most celebrated ceremonial occasions.
Dressed in the green and blue of the Forbes tartan, 75 kilted clansmen marched at the Royal Edinburgh Military Tattoo for the very first time. With 8,500 people packing the grandstands, a lone piper led the Strathdon clan – armed with their traditional 8ft pikes – over the castle drawbridge to mark the start of the evening's performance.
They were piped in by Alastair Laing, the pipe major of the Lonach Pipe Band.
Last night's event celebrated the history of the Forbes and Wallace clans – the ancestors of many of the highlanders would have been members.
The group were invited by Lord Forbes himself to march at the event, which draws in spectators from across the globe.
Jennifer Stewart, secretary and chief executive of the Lonach Highland and Friendly Society, said: "The tattoo is renowned the world over and attracts thousands of international visitors.
"To have the opportunity to showcase the history, heritage and spectacle of Lonach to them is fantastic.  Tonight writes another special chapter in our long history."
The Lonach Highlanders – made up of 227 members – are believed to be the largest body of non-military men to carry ceremonial weapons in Britain.
Their history stretches back nearly 200 years to the founding of the Lonach Highland and Friendly Society in 1823.
Jo Robinson, VisitScotland regional director, said: "The Lonach Highlanders are a truly iconic spectacle for this region and the fact they have been invited to open the Royal Edinburgh Military Tattoo demonstrates their huge popularity.
"Clans and their associated celebrations are such a major part of Scottish tradition, I am delighted that in this – Scotland's Year of History, Heritage and Archaeology, the men of Lonach will play such an important role."
Meanwhile, the 176th Lonach Highland Gathering and Games is fast approaching, taking place on August 26. For more details visit www.lonach.org