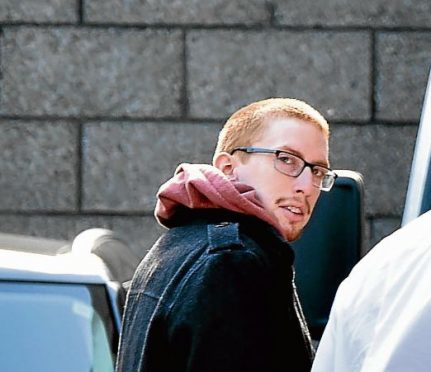 A north-east man has been placed on the sex offenders register after asking underage teenagers to send him naked pictures.
David Ritchie was previously ordered not to contact anyone under the age of 16, but continued to use Snapchat to communicate with youngsters.
At Aberdeen Sheriff Court yesterday, the 19-year-old admitted interacting with a 13-year-old girl and 15-year-old boy on social media after being caught speaking inappropriately to another young teenage girl.
The court heard he was unknown to the two girls and began talking to them normally before sending them pictures of his private parts.
He then repeatedly asked both of them to send them naked pictures of themselves.
He spoke to the second girl between November and December last year – after he had been ordered not to speak to anyone under the age of 16.
When police carried out a warrant at his home on Carnie Brae in Kintore, they found his phone where the activity had taken placed hidden in a cavity in the wall.
In February this year he also sent explicit pictures to a 15-year-old boy.
Sheriff Andrew Miller deferred sentence on Ritchie to obtain reports and placed him on the sex offenders register.
He was remanded in custody and will return to court next month to be sentenced.
Gillian Martin, MSP for Aberdeenshire East, said parents should warn their children about the dangers of "sexting."
She said: "The use of social media to share intimate photos is not something happening every now and then but is a frequent occurrence amongst teens.
"This is an issue which is only going to become more common than it already is and we need to be educating our children on its dangers and the long term ramifications both at a criminal and personal level.
"Teachers are becoming more aware of the need to educate young people but it is really important parents take a responsibility for this too and don't shy away from communicating to their children about the dangers of sexting."