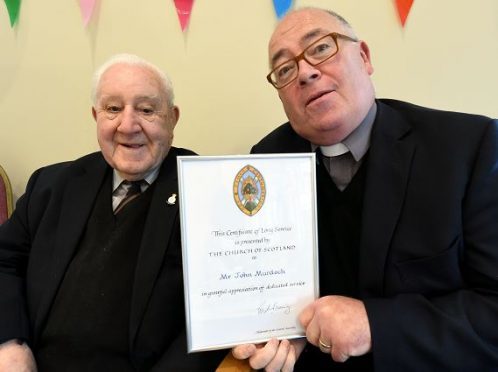 A former telephone worker and enthusiastic cricketer reached his personal century at the weekend and attributed his good health to his active lifestyle.
John Murdoch was surrounded by friends and loved ones, while they toasted his 100th birthday at a party in his local church in Torphins.
The great-grandfather has spent "some time" as a lay preacher and has been known to take over the sermons in Mid Deeside church when required – most notably just three days before he turned 99.
An active member in the church for more than 90 years, he also plays the organ and piano at evening services.
Born in Glasgow on August 19, 1917, John moved to the Uddingston area in 1923. He went to Uddingston Grammar School in the days that "Tunnock's was just a high street baker" and, by the time he was six, was well established in the Sunday school of Trinity Church.
By the age of 16, Mr Murdoch had graduated to Sunday school teacher and begun his abiding interest in the organ.
In 1935, he joined Post Office Telephones in Glasgow and, amidst war service, spent the next 42 years moving up to the top rungs of the company, first in Glasgow and Edinburgh and then, from 1952, in Harrogate.
Always a keen sportsman, he played cricket in several league teams, scored several centuries and took all 10 wickets for 14 runs during a match on a "memorable day" in 1936.
At 22, he was called up for WWII and served in various signals and air defence units in the UK before landing in Normandy in a mobile coordinating unit about eight weeks after D-Day.
He left the Army in 1946 as a major and was "mentioned in dispatches". In common with many of his generation, he declined to speak about his wartime experiences and chose not to use his title in civilian life.
Straight after the war, he married his childhood sweetheart, Margaret, and the couple moved to Harrogate together where they had two sons, Jim and Bill.
In 1980, they moved to Blairgowrie, where Mr Murdoch became a lay preacher and in 1993, relocated to Torphins to be nearer their family members.
Margaret passed away in 1997, but he has continued steadfastly in several activities and become a "well-kent face" visiting hospitals and conducting funerals across Mid Deeside.
Two years ago, he also suffered the tragic death of his younger son Bill, but has continued resolutely in his church work.
Although he remains as sharp as ever, Mr Murdoch has been slowly reducing the amount of work he does.  But he has no intention of retiring entirely.
As he explained: "I started preaching because I was asked to do it. I continued preaching because it seemed to be helping people.
"I am prepared to go on as long as people want me to. Let others decide that."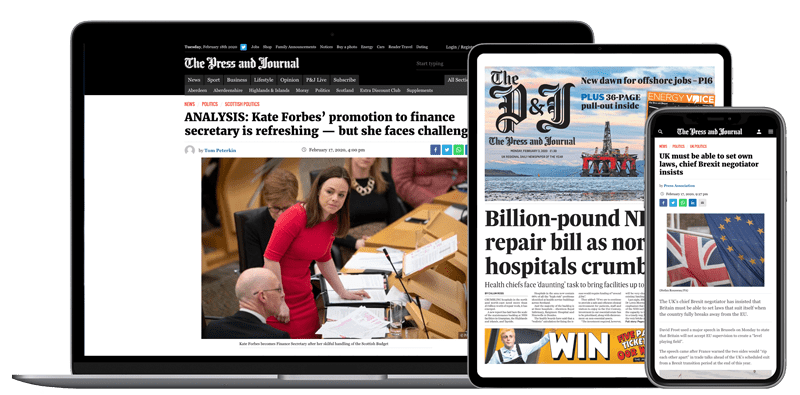 Help support quality local journalism … become a digital subscriber to The Press and Journal
For as little as £5.99 a month you can access all of our content, including Premium articles.
Subscribe