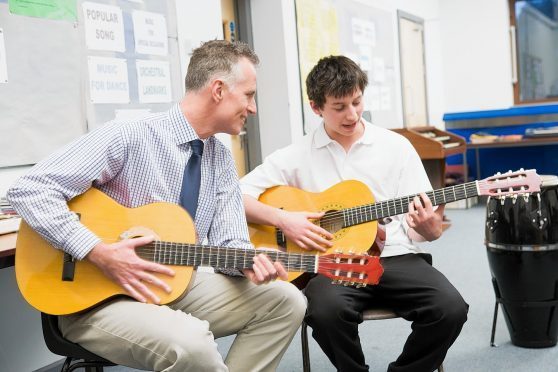 Education bosses have published a report on the visiting specialist row confirming secondary school teachers may be told to retrain.
Aberdeenshire Council is in the process of amalgamating visiting specialists in music, art and drama into core staff.
Currently the expert tutors, some of whom also teach languages, cover a number of schools over a wide area.
Aberdeenshire's education chief accused of belittling visiting specialists
The scheme was first mooted in 2014 and means visiting specialists will be asked to take on permanent roles in the classroom. Around 140 staff will be affected.
Now educations chiefs have published a report into the process which explains what the future holds for the staff.
In her report to the committee, education director Maria Walker said the change of policy will give headteachers more control over staff in their own schools and balance out specialist education across the region.
A review into the system of visiting specialists in 2013 found that there was an "imbalance" in the specialisms in different area.
New figures also show that 10 days per visiting specialist are lost to absence, compared to just four for every primary school teacher.
In her report Mrs Walker added: "It is fair to say that there was not universal agreement on the proposal and as a compromise, there was a management decision to transition incrementally to a new model."
There have been no new visiting specialists hired since the 2015/16 academic year. Under the new scheme school bosses do not predict any loss of staff.
However for secondary school specialists there are two options. The first is to become a permanent academy teacher. The second is to retrain as a primary teachers – a move staff will have up to five years to complete.
Last night a spokesman for Aberdeenshire Council said: "In order to improve the consistency of curriculum delivery across Aberdeenshire, schools are to be given direct responsibility for the deployment of teaching staff."
North-east SNP MSP Gillian Martin, a vocal critic of the changes, said: "The removal of the specialist teacher role across Aberdeenshire which could result in the loss of many talented people.
"Visiting specialists are particularly important for our rural schools some of which have teaching heads and a small staff cohort."
The education committee will meet at Woodhill House on Thursday to discuss the changes to visiting specialists.