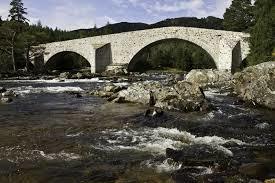 A raft of vital repairs are to be carried out at a Deeside bridge which was devastated during the Storm Frank floods.
Braemar was virtually cut off in January 2016 when the Invercauld Bridge, on the A93 Aberdeen to Braemar road, was severely damaged by the deluge and had to be closed to traffic.
A section of the road was also washed away during the floods.
Now Aberdeenshire Council has revealed contractors have been appointed to protect the steel structure of the bridge, which passes over the Clunie waters.
Highway Barrier Solutions will carry out the work, costing £55,250, which are expected to take eight weeks, starting from September 18.
The repairs, due to begin in the coming weeks, will involve painting the bridge's metal parapets.
Councillor Geeva Blackett, Aboyne and Upper Deeside ward, has said the work is essential for the area.
She said: "This bridge is a vital link between Braemar and the rest of the region.
"The main A93 links the village with Speyside and the Highlands and to the east, Aberdeen.
"And as we found out during the floods the community will be severely affected both financially and logistically if it becomes impassable.
"I welcome the council's decision to provide the funding to secure its future sustainability."
Donald MacPherson, bridges and structures manager of the council's roads and landscape services, said: "We're pleased to have awarded the contract for the essential work which will be carried out on the Invercauld Road Bridge over the Clunie Water in Braemar".
"The contractor will carry out painting and repair work on the bridge's parapets to maintain the protection of steel which will ensure the integrity of the bridge.
"The painting of the metal parapets will also give the bridge a much needed freshening up. The work is estimated to last for around eight weeks and one footpath will be closed at a time to allow this done be safely.
"The road itself is not expected to close but will require the introduction of temporary traffic lights. Road users and residents will be notified of restrictions in due course."