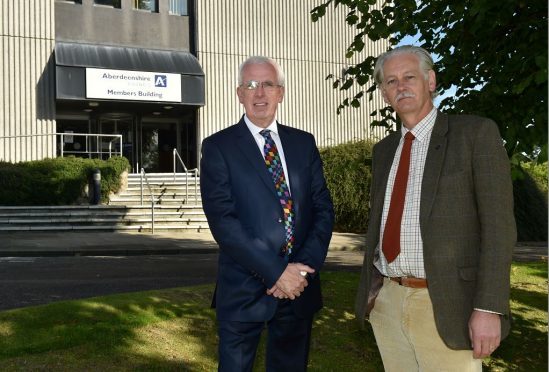 Stephen Walsh
Businesses have yet to feel the true sting of controversial rates rises, a council leader has warned in a plea for more action from the Scottish Government.
Jim Gifford said ministers needed to alleviate the soaring fees some traders will face next year when temporary help from Holyrood comes to an end.
In February, Finance Secretary Derek Mackay bowed to months of pressure and belatedly capped this year's huge rises at 12.5% in the hospitality and office sectors.
However this help is scheduled to be lifted in April, meaning the stark reality of the rises is still to become apparent to many firms.
Aberdeenshire Council leader Mr Gifford has said the business community had been left in the dark as to what, if anything, the government plans to do after the cap is removed.
"Everything that was put in place was a one-year fix, the revaluations happened in 2015 and took effect last year with all the mayhem that followed," he said.
"So with Derek Mackay's rebate scheme, the little money the council got was all a one-off and we've no idea what's going to happen next year."
Government analysis released last month showed that more than half of the rise in business rates across Scotland was being borne by the north-east alone.
The steep rises – based on revaluations carried out before the oil price slump left livelihoods throughout the region reeling – have been blamed for closure and job cuts.
More than a third of north-east businesses say they will have to cut staff numbers as a result, according to a recent survey commissioned by the Press and Journal
Staff training and development are being pared back by 42% of respondents and 30% are being forced to increase costs for customers.
Last month, housebuilder Malcolm Allan demolished an empty multimillion-pound office block to avoid paying £110,000 in annual fees.
The council – and Aberdeen City Council – have put in place their own multi-million relief schemes to cushion the blow for firms ineligible for government help.
Mr Gifford spoke out a week after the Barclay Review called for a complete overhaul of the current system.
The panel, led by former RBS Scotland chairman Ken Barclay, made 30 recommendations aimed at boosting growth, cutting administration and increasing fairness in the system.
But Mr Gifford said more immediate action was vital.
He added: "There was great faith placed in the Barclay Review, it's full of lots of good things but it's not changing the system one iota in the short-term.
"They must know exactly what they have to do, they know all the problems that are being caused by this, in terms of people having huge increases which were a surprise to pretty much all of them – that surprise needs to be take away.
"That could mean taking on board the review stuff really quickly so you have more regular revaluations.
"However they do it, they just need to get to grips with it and bring forward something that lets us all know what's happening.
"That's not just for the councils, that's for all the businesses affected, because they are all sitting there not knowing. And the effect of that, as we are seeing, is perfectly good buildings being knocked down so they can avoid paying rates on them."