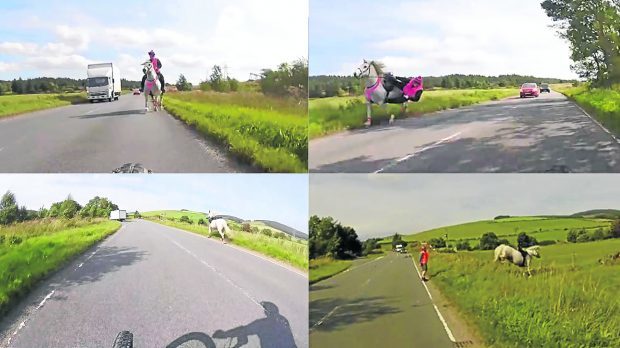 Shocking footage has emerged of a woman being thrown from her horse after it was scared by a passing lorry.
The video, which was shared on a website campaigning for more considerate driving, shows Kathryn Hingston riding her white horse Ruby along the A920 Dufftown to Ellon road at the weekend.
Recorded on a cyclist's helmet camera, it shows the white HGV failing to slow down as it passes the rider and her steed.
The scared animal then suddenly veered into the right-hand lane, narrowly missing a red Vauxhall Corsa which was behind the lorry.
As the horse surged forward, Miss Hingston lost control of the reins and fell to the ground, apparently landing face first.
The footage then switches perspective to show the animal galloping ahead while the lorry fails to stop and turns off onto another road.
Following the accident, Miss Hingston shared the footage with the Pass Wide and Slow Facebook page and posted photographs of her injuries, which showed a bloodied cut elbow and a bruised and swollen foot.
The Highway Code advises motorists that they should pass horses widely and slowly as the animals, while large and powerful, can panic easily.
It adds: "Take great care and treat all horses as a potential hazard; they can be unpredictable, despite the efforts of their rider/driver."
Last night, a leading horse rider road safety organisation said the video was worrying.
Alan Hiscox, director of safety for the British Horse Society said: "The British Horse Society are saddened to see this footage and we hope the rider and horse have a speedy recovery. Unfortunately, incidents between riders and vehicles are quite common.
"A lot of people don't know how to approach horses on the road, and that's why we launched the Dead Slow campaign, to encourage drivers to pass horses in an appropriate manner and this is certainly of particular relevance to drivers on rural roads.
"We want drivers to slow down to 15mph when they see a horse, and pass wide and slow."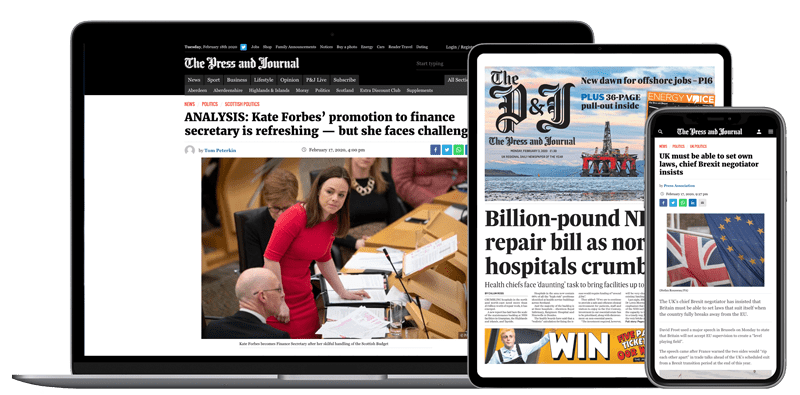 Help support quality local journalism … become a digital subscriber to The Press and Journal
For as little as £5.99 a month you can access all of our content, including Premium articles.
Subscribe