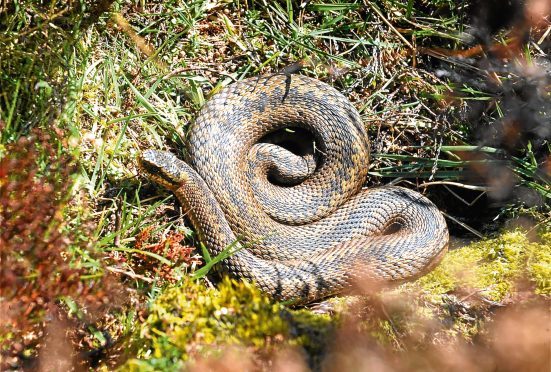 Dog owners have been urged to stay vigilant after a number of animals were bitten by snakes in the north-east.
The incidents took place in the hills surrounding the Cairn O'Mount, which are popular with dog walkers, during the weekend.
Reports shared on social media revealed that three dogs were bitten by adders at Finzean, near Banchory, and Fettercairn.
The pets were relatively unscathed and were treated with antibiotics and anti-inflammatory medicine at the vet.
However, the bites can cause severe damage to dogs' internal organs and prove potentially lethal.
Following the incidents, both local estates and the Scottish SPCA have urged pet owners to be extra vigilant when they are walking through overgrown areas.
Lianne MacLennan, co-ordinator of Angus Glens and Grampian Moorland groups, said: "The best advice is to get the dogs to a vet as soon as possible for antibiotics, although we are aware most vets do not stock anti-venom. Adders have always been known to bite dogs, but there does seem to have been a number of incidents this last weekend.
"The likeliest cause is the weather with the adders lying out trying to get the sun on their backs.
"If they are asleep their instinctive reaction is to bite if stood upon."
Adder bites often result in dark swelling and can lead to breathing difficulties if they are in the facial area. Dogs may show signs of pain and appear nervous, with other potential symptoms including lethargy, bruising, vomiting, restlessness, dehydration and bruising.
If the bite is left untreated, the animals may collapse and suffer from tremors, convulsions and blood clotting problems.
Mike Flynn, the Scottish SPCA's chief superintendent, said: "We have received no reports of incidents involving dogs being bitten by adders in the Aberdeenshire area.
"But we urge dog walkers to be vigilant. Any suspected adder bite must receive immediate attention."