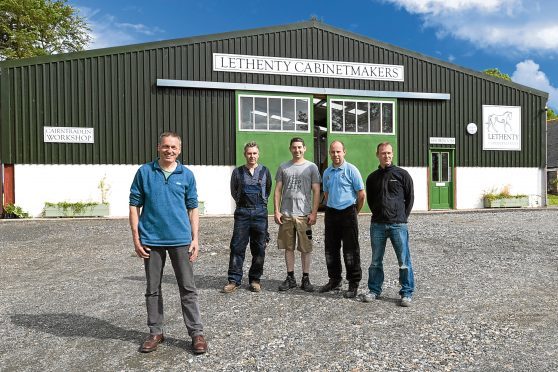 A north-east firm of carpenters is back in business after their old workshop was destroyed in a fire more than a year ago.
Lethenty Cabinetmakers' were previously housed at Lethenty Mill within a "community of craftsmen".
But in April 2016 a massive blaze, which took 50 firefighters 22 hours to extinguish, burned the building to the ground.
But now the business is back up and running after the firm secured a new workshop near Blackburn.
Lethenty Cabinetmakers is a local company that specialises in designing and making bespoke wood furniture and kitchens.
Last night owner Graeme Winram said the firm would miss the old premises which had kept them for 20 years, but said he was excited to be able to work in a more modern environment.
He said: "We are excited to be up and running again in our new workshop.
"After a long period trying to find a suitable new home, we're back to doing what we love, which is designing and making bespoke furniture and unique kitchens.
"Given that we were located at Lethenty Mill for more than 20 years, we will always feel regret at its loss.
"But our new, modern facilities will enable us to work far more efficiently and allow us to offer a broader range of products and services."
Lethenty Cabinetmakers' consists of five experienced craftsmen specialising in working with the hardwood timbers of Aberdeenshire.
The new workshop is located at Cairntradlin, one mile north of Blackburn.
Mr Winram added: "Following the fire, we looked at dozens of potential new buildings before settling on Cairntradlin. Converting the building into a modern and efficient new workshop has been a massive undertaking, and all of us have worked tirelessly to create a new home for Lethenty Cabinetmakers.
"Many of our clients have been waiting patiently for us to be up and running again, so we have a lot to be getting on with.
"Despite the downturn in the oil industry, I believe there will always be a demand for high quality bespoke kitchens and interiors.
"The fire at Lethenty Mill has indeed been a setback for us but now we can put that behind us, roll our sleeves up and get back to work."
At least six firms were affected by the blaze, including Lethenty Cabinetmakers, Cinecosse, Nina's Apartment, Lethenty Mill Furniture, Joss Engineering and Jim King Autotune.
Classic vehicles, rally cars, antique furniture and filming equipment worth hundreds of thousands of pounds were also destroyed.
In June the mill was put up for sale at offers over £395,000.
The site is being marketed as a development opportunity over 3.3 acres and includes the substantial former mill building, which remains extensively damaged by the fire.
It is thought that the site might be suitable for residential development but other uses might be possible.