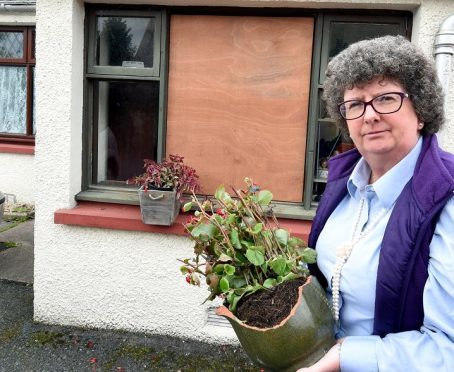 Joanne Warnock
A north-east councillor has been left feeling "shaken and jumpy" after a plant pot was thrown through her window in what she believes is an escalating campaign against her.
Aberdeenshire councillor Gillian Owen was asleep when a large plant pot was thrown through the porch of her home in Ellon – damaging a gift she received from Theresa May.
Rudely awoken by the sound of smashing glass at 5am yesterday Mrs Owen discovered a "huge" potted plant in her porch and a smashed pane of glass.
Police are investigating the attack on the Ellon home of the outspoken Conservative chair of the local authority's education committee.
Gordon MP Colin Clark said it was a "deplorable and cowardly" act.
Voicing her anger last night, Mrs Owen said she felt she was the victim of a six-month campaign of abuse by "unknown individuals".
The community stalwart, first elected as a councillor in 2007, said: "I'm bitterly disappointed that this has happened.
"I work really hard for Ellon and for this to happen – well it's just mindless.
"It looks like they have tried at first with a small flower pot, but then had to find a much bigger one to break the window.
"The place is in such a mess – and it's destroyed a plant that I inherited from my grandfather."
Explaining that the family home has been under attack before, Mrs Owen said she had resorted to phoning the police "a few times" in the last six months.
She said: "We have had a lot of nuisance behaviour such as people ringing the door bell and then running away, but also we found some broken glass placed behind the wheels of my car. The behaviour seems now to be escalating."
A police spokeswoman confirmed that they had visited Mrs Owen yesterday about an alleged act of vandalism and that their inquiries were still on-going.
She added: "There has not been any other similar incidents reported in Ellon."
Mrs Owen, who lives in the Schoolhill Road property with her husband Steve and son Alex, praised the quick response of the police.
She commented: "The police have been brilliant, they were here within fifteen minutes. They took statements from all three of us, but said they wouldn't be able to get finger prints.
"Alex said he had heard people running off, but all I heard was the noise of the glass shattering. I've been feeling jumpy all day – I can't quite believe local people could do something so horrid."
Sharing her experience on social media yesterday Mrs Owen received floods of messages from people outraged by the behaviour.
Ellon resident, Wayne Baber commented: "Sad to hear this news Gillian." And Lorraine Bryan said: "Such a horrible thing to happen and sad that people can sink so low. Stay strong and keep to your beliefs."
Helen Smillie also added a message of support and said: "What a horrible nasty incident, really shocking to think someone could do that. Hope they are caught."
Last night Mrs Owen said that she didn't think the attack had been politically motivated.
She said: "It's just made a huge mess and the fact that I've lost my grandad's plant is quite upsetting. They also knocked a bay tree over that I received from Theresa and Philip May when I left the Maidenhead association – it's shattered in pieces."
Gordon MP Colin Clark was shocked by the news and last night commented: "This attack is deplorable and cowardly. Gillian is a wonderful public servant and I am sure all her council colleagues, of which I used to be one, will rally to her support."