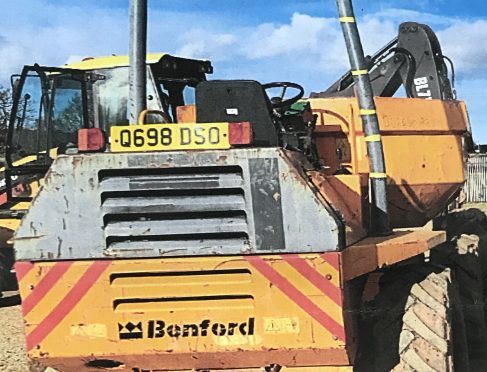 Police are appealing for information after a spate of thefts from rural properties across the north east.
A bright yellow seven-ton dumper truck, worth thousands of pounds, was stolen from a farm near Turriff on Tuesday evening and a collection of tools were also taken from a locked shed near Fyvie overnight on Monday.
Officers investigating the two thefts have released a description of the stolen vehicle – a yellow Benford Terex dumper truck with registration Q698 DSO – which was taken along with a trailer from a farm near to Colp Road in Turriff.
The theft occurred overnight at around 1am yesterday morning.
The two large pieces of equipment have been valued at a "mid four figure" sum and the truck has been described as having a "very loud" exhaust and malfunctioning roof beacon.
The tools were stolen between 8pm on Monday, September 11 and 8am on Tuesday, September 12 from a locked outbuilding on a farm in Fyvie.
Detective constable Richard Cooper of the CID Proactive team in Fraserburgh said: "Thieves have been out in Aberdeenshire and I want to warn home and business owners to be especially vigilant in terms of securing their property and vehicles.
"If anyone recalls seeing the Benford truck and trailer, or if anyone has been offered industrial tools for sale in the last day or so, I would ask them to get in touch."
His appeal followed reports of thefts of a number of farm gates from the Pennan area on September 3.
Chairman for NFU for the Highland region, Martin Birse, said: "There is a general feeling there has been a rise in thefts of machinery and stock – especially saleable items such as quad bikes.
"The likes of a 7-ton truck would probably be stolen to order and, depending on its age, it may not have the requisite anti-theft devices that NFU Mutual now insist upon.
"I hope these items turn up, we have certainly been more pro-active recently and have set up new initiatives when incidents like this occur.
"These include a system where everyone signed up will get a text message straight away to tell them of the missing items.
"Hopefully, this will help in the recovery of some stolen goods and make farmers much more vigilant – more than they already are."
Anyone with information about these incidents is asked to contact Police Scotland on 101.