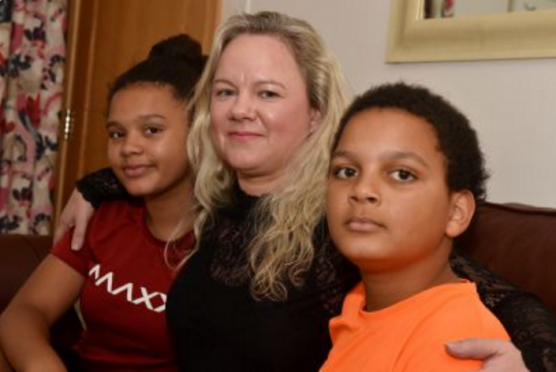 A mum has claimed there is an "undercurrent of racism" in the north-east after her two children were racially abused just days after starting their new school.
Cody Edene, a "born and bred Aberdonian", has moved back to Aberdeenshire after living in Saudi Arabia and Malaysia with her young family.
She is now living in Old Deer, but within a week of her two children Mimi, 12, and Junior, 10, starting school after the summer holidays, they were subjected to disgusting racial slurs and abuse from other pupils.
In one particularly disturbing incident, pupils started chanting as Mimi got off the bus.
Her mother, who was an English language teacher overseas, said: "My daughter was called the N word and when coming off the school bus heard a chorus of 'bye chocolate fountain' from a group of older boys.
"My son says the kids at school use the N word all the time seemingly with no concept of how offensive it is or why it's important not to use it."
Both children were born in Aberdeen,and Ms Edene said the family never suffered any form of racism while living in Saudi Arabia and later Malaysia.
"We came home to Scotland, our homeland, and then faced racism for the first time in our lives," Ms Edene said. "I think people in this area need to understand the importance of language and the words that are used."
Ms Edene has praised the schools and local authority for taking swift action to stamp out the abuse when she first reported it, and said the incidents have actually led to the issues of racism and equality being raised in the classroom.
A spokesman for Aberdeenshire Council said that although they cannot comment on individual cases, the authority takes equality issues seriously.
"Any teacher joining the council receives equality and diversity training as part of the induction process," he said.
"Pupils found to be using discriminatory language in school would be dealt with in an appropriate manner by trained school staff."
Last night David Duguid, MP for Banff and Buchan, said: "There can be absolutely no place whatsoever for this type of language – not in schools, not in workplaces, not anywhere in Scottish life."
The Conservative politician said he was "disturbed" to hear about the incidents but glad that staff acted swiftly to address the problem.
He added: "Where there are problems, we must continue to educate our children that using these kinds of derogatory and offensive terms is simply unacceptable."