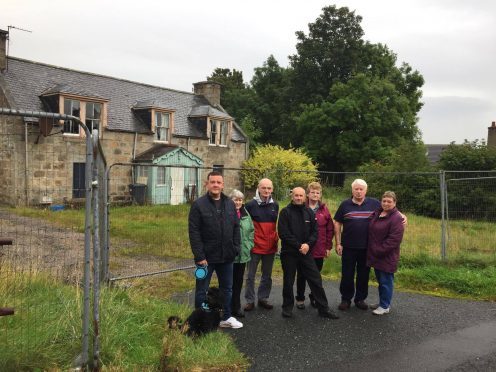 Plans to redevelop an "eyesore" Garioch cottage are to be considered again by councillors.
Previous schemes to convert Strathburn Cottage on Middlemuir Road, Inverurie, into a block of flats have been thrown out amid flooding fears.
Aberdeenshire Council's Garioch area committee will meet today to decide on the new plans submitted to transform it into 15 flats – a reduction from the 24 submitted in 2015 and the 18 in 2016.
The site was formerly a brewery, but now only a 19th-century building known as Strathburn Cottage remains on the site. It is not a listed building.
Seven formal objections have been received for the plans.
One came from Niamh Santry, whose home backs onto the site and who said the development would prevent her severely autistic son from accessing his back garden. Mrs Santry said: "He finds leaving the safety of the house and garden too traumatic," she said. "Should the high density accommodation go ahead, the noise and disturbance will prevent him accessing the back garden. He would then be totally housebound, which would aggravate his mental and physical health – deteriorating it even further."
She went on to say the flooding issue from the burn and water overflowing onto the road would be a "hazard" for any extra traffic in the winter.
"I do not wish to compromise my family's health and safety because of poorly, ill-conceived and unsuitable designs for the site."
Another resident, Margaret Grant, who lives adjacent to the development, and has formally objected in the past, commented: "I would like to see a similar house to the rest of the street go in there – this street is mainly small bungalows and retired people. It would stick out like a sore thumb." Two letters of support were sent in.
Bryan Stuart, a former member of the Garioch committee, said he thought "adequate steps had been taken to address the previous refusals" and welcomed the new plans. The cottage is next to the Strath Burn and was described by the council's flood team in 2016 as a "problem site".
However, planning officers say it is now in accordance with flooding policy.
The Garioch area committee meeting will be held today at 10.15am in Gordon House, Inverurie.