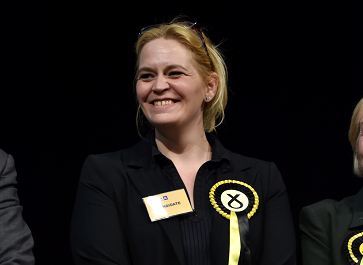 An SNP councillor could face a watchdog inquiry over a public tirade claiming a senior Conservative told school pupils immigration was to blame for pressure on the school system.
West Garioch councillor Victoria Harper posted the rant on social media after pupils from the Gordon Schools, including her son, returned from a tour of Holyrood.
At the end of the visit the kids took part in a question and answer session with north-east Tory MSP Alexander Burnett.
In the post, which has since been deleted, she said: "While answering their questions he said that foodbanks are a good thing but are caused by SNP failings.
"When asked about Brexit he said that it is good immigration will be getting sorted out because immigrants ruin our education system as well as contribute to foodbank use."
The post was shared dozens of times and sparked a backlash against the Aberdeenshire West representative.
But the Conservatives vehemently deny Mr Burnett made such comment.
A parent has told the party that she intends to make a formal complaint about Mrs Harper's behaviour to the Standards Commission, which regulates councillors' behaviour.
Last night a party source said: "This was a quite extraordinary rant on social media considering this councillor wasn't even present at the visit.
"Teachers, parliament staff and other parents have all been astonished at her remarks.
"Clearly, the nationalists feel threatened by the surge in support for the Scottish Conservatives, but elected politicians should know better."
Since the incident, guidance about parental conduct on social media has been issued by the school to parents, including Mrs Harper.
It is understood Gordon Schools rector Phil Gaiter apologised personally to Mr Burnett, however Aberdeenshire Council say no official apology has been made.
Nevertheless Aberdeenshire's SNP group leader Richard Thomson has called on Mr Burnett to focus on his day job.
"This is an extremely silly and ill-advised attack on councillor Harper from the Conservatives, which is already beginning to fall apart as the facts emerge," he said.
"The only people who know the truth of what was said were in the room and if, as is being suggested the matter is being referred to the Standards Commission, then it would be inappropriate for anyone to comment further at this stage."
However Mr Thomson suggested Mr Burnett's own Holyrood career has been "mired in controversy so far".
The Conservative politician was recently admonished by a standards committee for failing to declare business interests while lodging parliamentary questions.