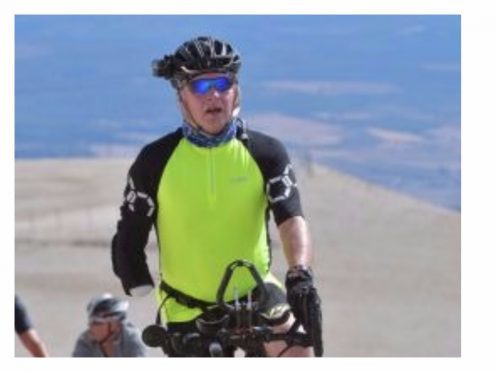 A north-east cyclist is gearing up for one last ride after two decades of gruelling charity challenges.
Doug McIntosh, 56, has raised more than £200,000 for good causes through a variety of sporting adventures since losing his right arm to cancer in 1997.
Most recently, he became the first upper limb amputee to complete three climbs of Mont Ventoux in France in one day.
The mountain is regularly used as the last training camp by Tour de France riders before their main race.
Nicknamed The Monster, it is widely regarded to be home to some of the most punishing routes in world cycling.
Mr McIntosh, of Westhill, said: "Three or four years ago I found out about it and I decided I wanted to put my mark on it as an amputee.
"There were three events, which took me roughly three hours each, and they were all technically different and demanding.
"It was just fabulous and I'm really glad I did it."
By completing the 43mile cycle, Mr McIntosh raised £4,000 for the Anchor Unit at ARI, Maggie's Cancer Centres and Cancer Research UK.
It also became just the latest in dozens of fundraising efforts he has completed over the past 20 years, including raising more than £65,000 by cycling 2,000miles around Britain in under 20 days.
He added: "I'm a really bad runner but I've done three London Marathons as well.
"In the last one I had a really bad muscle tear in my calf but I still did it.
"For me, failure is not something I want – you either do it, or you don't."
Mr McIntosh's last charity ride with be with retired English rugby captain Lawrence Dallagio as part of his Cycle Slam challenge.
In May, he will ride from France through Switzerland to Italy.
He said: "When I got back from Mont Ventoux, Lawrence Dallagio's team got in touch.
"I said to my wife 'that's it,' and that I must think about backing off.
"Since last August I've ridden around 12,000 miles so that's a lot, especially when you're working as well.
"I'm really keen to do the Cycle Slam.
"At one point you have to skim over the top of Mont Blanc, so that's going to be a big beast as well.
"When you're facing a life-threatening thing, and you're told you've got your life back, it really motivates you – it's a huge driver."