The bells of an historic Aberdeenshire primary school have rung out for the last time.
Inverurie's Market Place school has taught generations of the town's children since first opening in 1863.
But now its pupils are moving to a multi-million pound replacement.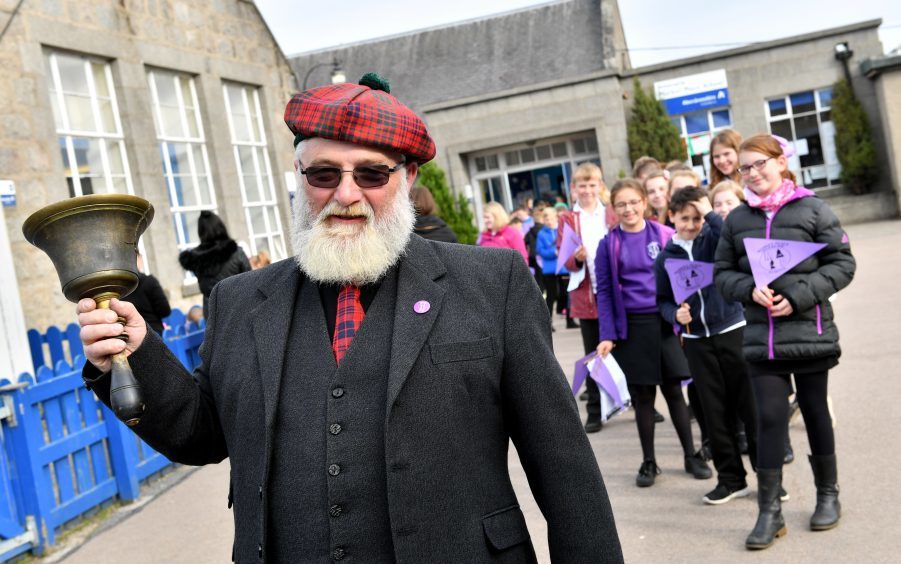 The school currently teaches 280 young people and has been nearing capacity for the last couple of years, leading to the decision to build another.
A new £10million Uryside School, located off the Inverurie to Oldmeldrum road near Osprey Village, will officially open in December – although pupils will begin moving in after the October holidays.
As well as learning facilities, it will include an indoor sports hall and two outdoor sports pitches.
The old school will be mothballed.
Earlier this year, pupils put their memories of the school in a time capsule and buried it in the grounds of the new facility.
The time capsule was filled with items suggested by the pupils including a school photo album, a calendar of school events, a school dinner menu and a local newspaper.
Yesterday the historic primary was given a fitting send-off beginning with the bagpipers in the town's Market Square leading a procession of the school's pupils waving purple school flags.
After the final bell rang at 3.10pm, the day ended with the children taking part in a rousing chorus of "Inverurie Market Place School's a jolly good fellow" before raising three cheers while a confetti cannon erupted.
Inverurie and district councillor Neil Baillie said that many would feel saddened at the closure but that the new school had "excellent facilities".
He said: "The school has been a focal point in Inverurie for generations and I know that many people will have very strong and fond memories.
"But we have a fantastic school with really excellent facilities that will serve pupils for years to come."