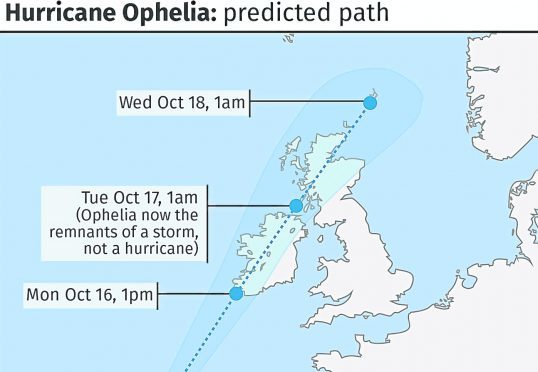 Hurricane-force winds are due to batter coastal areas across the Highlands and the north-east tonight.
Hurricane Ophelia, which was upgraded from a tropical storm last week, has already made its way across the Atlantic Ocean and was expected to hit UK shores yesterday.
Northern Ireland and the west of the country are expected to bear the brunt of the severe weather, with the Met Office issuing an amber warning for wind, meaning there is a potential danger to life.
But the rest of Scotland will not escape the gales, with a yellow warning in place across much of the country, and winds between 50-70mph per hour anticipated to begin later today and last until tomorrow lunchtime.
Yesterday, transport chiefs took precautions with Dornoch Bridge closed to high-sided vehicles with high wind warnings also in place for Kessock and Skye bridges as the gales started to pick up.
The Met Office has said that the west coast will be most badly affected, but have also confirmed that parts of Argyll and the Hebrides will not fare much better.
As the area of low pressure moves across Scotland, gusts of up to 65mph are forecast to hit the southernmost parts of the Highlands.
It will then change course and head east where 45-50mph gales will pass across eastern Aberdeenshire before advancing into the North Sea by tomorrow afternoon.
Mike Reading, forecaster, added: "The worst-affected areas will be by the coast, and people should be careful to steer clear of locations where waves could potentially come over the sea defences."
Meanwhile, islanders are being offered the chance to re-arrange their Loganair flights free of charge.
The airline is giving passengers booked on flights between Glasgow and Barra, Benbecula, Campbeltown, Islay and Tiree, and trips between Stornoway and Benbecula and Inverness and Benbecula the opportunity to switch to another date later this week.
Jonathan Hinkles, Loganair managing director, said: "The possibility of weather disruption to our flights has increased, and we are therefore offering customers booked to travel on certain routes on Monday and Tuesday the opportunity to voluntarily re-arrange their travel without charge.
"If you hold a confirmed reservation on any of these routes on Monday or Tuesday, you can change your reservation to any available Loganair flight within the next seven days."
Great Storm, Page 19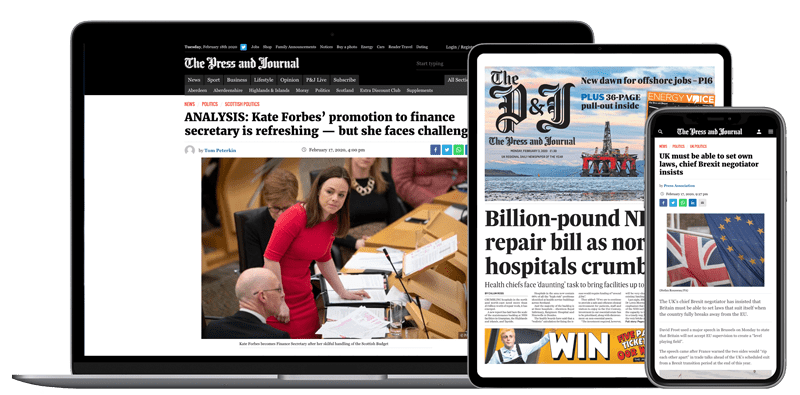 Help support quality local journalism … become a digital subscriber to The Press and Journal
For as little as £5.99 a month you can access all of our content, including Premium articles.
Subscribe