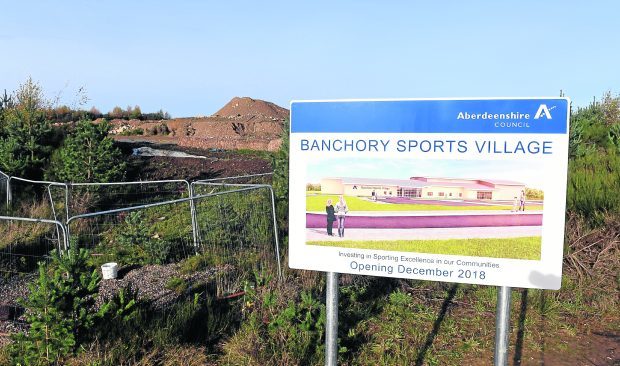 Construction on a long-awaited Deeside sports centre is now months behind schedule due to legal issues.
The £8.5million Banchory Sports Village was approved by Aberdeenshire Council in June, but progress has stalled on the initiative.
The first bricks of the development were supposed to be laid in October, but weeks have gone by and there is still no sign of work starting.
And now, the authority has confirmed that construction on the facility, which is adjacent to the Hill of Banchory Primary, will not start until next year.
There have been increasing questions about work at the site from the community, which contributed £700,000 towards the final cost.
Last night, Banchory Community Council said that it hoped work would begin as soon as possible.
Community Council chairwoman Mary Lennox said: "I think it seems like it's been going on too long, we were told it would be July, then October, and we were fine with that because we understand that these things can take time.
"Our councillors are absolutely certain that everything is fine, but I think the community just wants to see it built.
"The community has been campaigning for this for decades and have fought long and hard for it.
"It is almost certainly a blip, but perhaps they shouldn't have given a date so people wouldn't be disappointed," she added.It is intended that the new sports centre will feature a six-lane swimming pool, along with two squash courts, a gym, three-court sports hall, changing areas as well as meeting rooms.
A spokesman for the local authority said: "We are still working out the legal arrangements for the project and are hoping to be in a position to begin work in January."
Banchory residents have been calling for upgraded sports facilities in the community for years, with the current swimming pool at Banchory Academy only 20 metres in length.
Previous plans to expand sporting facilities in the town failed to get off the ground.