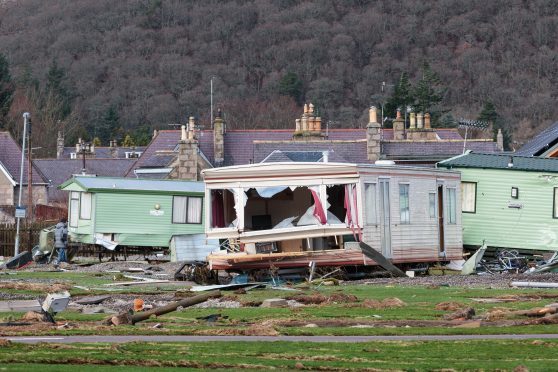 The Scottish Government has been urged to do more to protect vulnerable communities from flooding.
Two years on from Storm Frank, which devastated homes and businesses across Aberdeenshire, politicians have discussed how to protect people in the future at Holyrood.
Now Aberdeenshire West MSP Alexander Burnett has called for urgent action to be taken to protect Kemnay, which he claims is in "immediate" danger.
Relief cash to build defences depends on a review of Potentially Vulnerable Areas (PVA).
But the next round, which would grant the Donside community that status, does not occur until 2019.
Mr Burnett called for an earlier national review to potentially save "neglected" communities.
"On three separate occasions at committee I've raised flooding with the cabinet secretary including reviewing PVAs before the end of the six-year cycle," he said.
"And on each of these occasions she has confirmed that the Scottish ministers have no plans to amend the timetable."
Meanwhile, North East MSP Lewis Macdonald has called on the government to do more to protect low-income households who are not covered by flood insurance.
Figures show that 22.6% of Scottish households do not have insurance, and that this figure is even higher among low-income households, where less than half have insurance against flood damage.
He said: "Experts predict an additional 60,000 Scottish homes will be at risk of flooding by 2080. Ministers need to look into this issue, to find ways to protect low-income households, in the north-east and across the country."
Both MSPs were speaking after they took part in a debate in Holyrood this week.
A government spokeswoman said: "We have made available £42million every year since 2008 to enable local authorities to invest in flood protection schemes.  We have also guaranteed that for the next 10 years the level of capital grant within the local government settlement will be set at a minimum of £42million per annum."