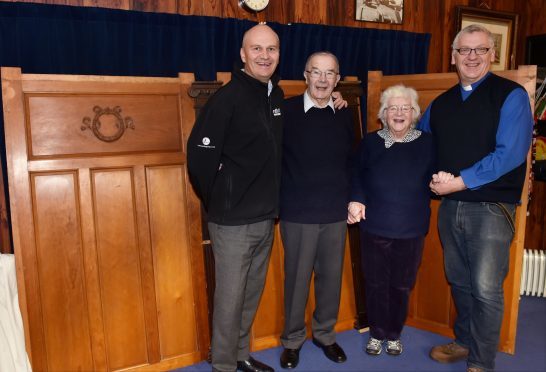 A vital piece of history will be restored to a fire-hit Victorian railway station more than four decades it was removed.
Ballater's B-Listed Old Royal Station was used by the Royal Family to travel to nearby Balmoral up until the 1960s and had become a popular tourist destination in the years since.
Since the fire in May 2015, major repair and renovation work has been under way to bring the station back to a life as a tourist centre, restaurant and a public library.
One of the key aspects of the renovation will be the restored original Queen Victoria's waiting room.
And the facility will have an additional piece of authenticity thanks to retired joiner Ian Hepburn.
Mr Hepburn was working on the then station pub in the early 1970s when he had to remove four original panels, complete with an intricate design,  from the room to make way for an extension.
Despite being told by his bosses to throw them in the skip, he decided he would hold onto them.
He kept them in his workshop and then his home for more than 40 years, but yesterday handed them over to the station project's contractor North Contracts.
"I took them out myself as I was working on the extension of the pub," the 81-year-old said.
"I realised that on the other side of the wall were panels that had been part of the original waiting room, I didn't want to throw them out.
"I've moved them between workshops and now they've been kept at my home for all these years.
"It will be great to see them back up. I'd almost forgotten I had them but the contractors got in touch with me because the last time there was work done at the station I tried to hand them back over, but whoever I spoke to wasn't interested.
"They came to have a look at them and now they've got them they will be able to match them up with other panels to put them back in place."
In return for Mr Hepburn's donation, the contractors have handed over a cash donation to Glenmuick Church which will now be used to pay for a wheelchair ramp.