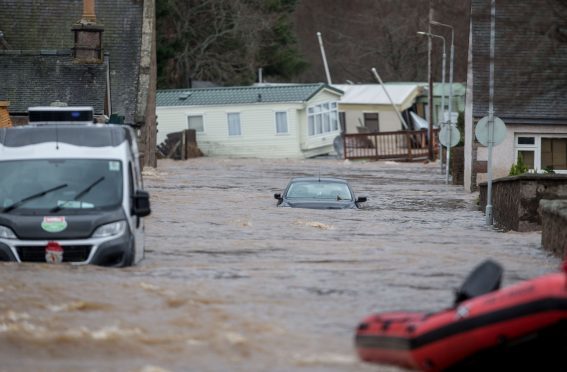 A Deeside community has launched an emergency plan to help safeguard people in the event of a major crisis like the Storm Frank floods.
Banchory Community Council has worked together with the emergency services to produce the resilience plan which will act as a short-term safety net for the town in the event of a major incident.
The project has been under way for almost a year and the initiative is now ready, two years after the floods which wrought huge damage across the region.
David Lindsay is one of the community council members who has worked on the plan.
He said: "This was started because of the floods in Ballater and Aboyne a couple of years ago.
"We thought it was important to have our own plane here as Banchory is vulnerable to flooding as well.
"The idea was to have something in place so we can act quickly in the event like flooding, a bus crash or a fire."
Voluntary groups from West Church, East Church and the local scouts are among the organisations that have backed the resilience plan.
And Aberdeenshire Council and police have been involved in the talks behind the plan.
Temporary refuges will be set up at Banchory Ternan West Church on High Street and the Scout Hut on Dee Street.
Mr Lindsay added: "The logistics of the emergency services response to these situations means they are not geared up to set up shelter for a large amount of people.
"What we are doing is providing a safe haven for people for a short period until something more long-term can be put in place."
The community council has said it is not essential for residents to have full knowledge of what is contained within the plan as representatives from the community and emergency services will be available to guide people to the refuge centres.
However, for anyone interested, the plan can be viewed in the town's library.
For more information contact banchorycommunitycouncil@hotmail.com