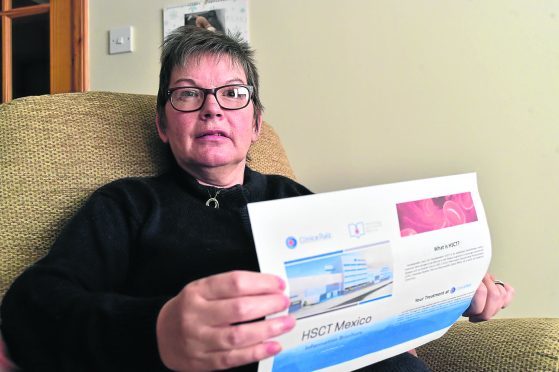 A north-east woman has launched a crowdfunding bid to help her undergo ground-breaking treatment.
Lesley McDonald from Turriff was diagnosed with secondary progressive multiple sclerosis (SPMS) around six years ago.
The 58-year-old already uses a wheelchair and fears she will be bedridden unless she undergoes the haematopoietic stem cell treatment (HSCT).
This involves several rounds of chemotherapy to suppress her immune system and stimulate the production of stem cells, which are collected and reintroduced to the body over the course of a year.
Mrs McDonald doesn't qualify for the treatment on the NHS or privately, but is due to undergo the procedure at Clinica Ruiz in Mexico in March.
But, for that to happen, she has to raise £45,000 and has started an online crowdfunding bid to make her dream a reality.
The money would go towards paying for the experimental treatment and a 28-day stay at the clinic in the city of Puebla, where she would be joined by her husband Ian.
The former support worker said she just wants to stop the MS before it forces her to spend her days in bed.
She added: "I am not looking to improve my condition because I've got secondary progressive MS.
"I am hoping to halt the progression of it, so I don't get any worse.
"I haven't really got much use of my left leg or my left arm and I get spasms, which is quite annoying at night time because it prevents me sleeping.
"I have quite bad fatigue during the day and I quite often have to go to my bed.
"I know people with the same condition as me and the next stage would see me becoming totally bedridden, so that's why I'm keen to get this done."
Mrs McDonald is hopeful her bid to raise the cash for the potentially life-changing trip to Central America will prove successful, but said she has been putting money aside.
She added: "Even raising part of the overall cost would help, although we have some savings.
"My husband had to take early retirement last year because I couldn't be left on my own.
"We had a wee nest egg saved because he doesn't get his pension for another few years.
"We are hoping not to spend all of our savings on this treatment."
More information on Mrs McDonald's fund raising can be found at https://www.justgiving.com/crowdfunding/lesley-mcdonald-1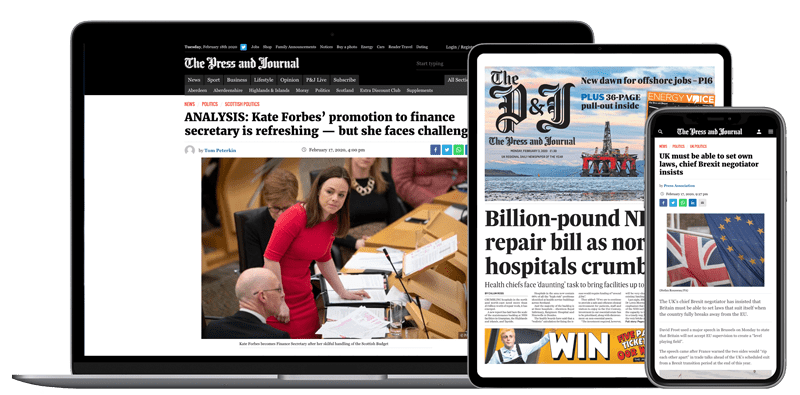 Help support quality local journalism … become a digital subscriber to The Press and Journal
For as little as £5.99 a month you can access all of our content, including Premium articles.
Subscribe