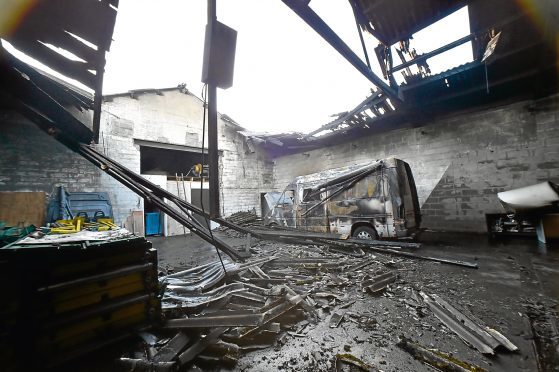 Thousands of pounds worth of motorcycle racing equipment has been destroyed in a fire in a north-east village.
Fire crews were called to the blaze at an outbuilding in Rothienorman's Main Street on Tuesday night.
The premises were being used by two motorbike enthusiasts who were keeping some of their machines, repair vans and other equipment inside.
One of the men managed to drive his vehicle out of the building as the flames rose.
But the other van, which was used at races across Scotland, England and Ireland, was completely destroyed and part of the building's roof sits on top of it.
Angus Mearns and Patrick Forman, who are heavily involved with the club superbike racing circuit, had been using the space for storage.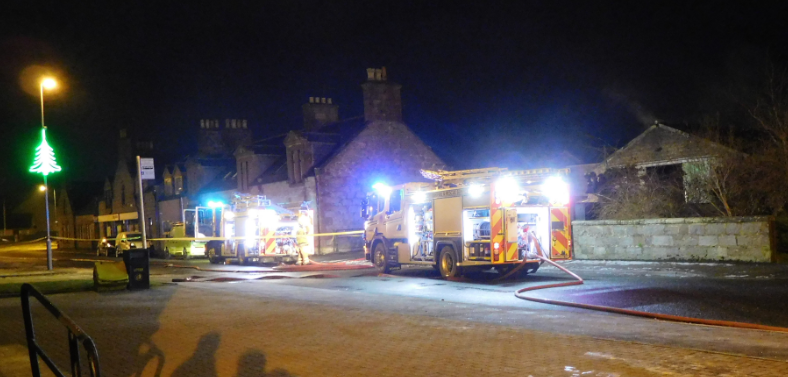 The cause of the blaze remains unclear and investigations into it are continuing.
Mr Forman jumped into his converted van, thought to be worth around £30,000, and managed to drive it out.
He said: "It was pitch black, flames everywhere and I got into my van but I couldn't see because the inside was full of smoke.
"It was really bad, I was coughing and it was hard job getting it out.
"I just didn't want my van to be lost, and I got it out before the roof collapsed.
"We weren't heroes we were just trying to save our stuff."
Mr Mearns has been racing for decades and said he has lost stockpiles of gear he had built up.
The 54-year-old said: ": "The van is probably worth around £5,000 or £6,000 and the rest of the stuff like leathers, helmets and the rest of it is worth probably £1,500.
"It is all equipment I've built over the years.
"We use the building to store the vans and the rest of it. The fire brigade couldn't say what was the cause was. The bad thing about is that if you've raced for twenty years it'll take a lot of years to get all of that back."
The incident left a gaping hole in the roof of the building, which is owned by Louie Ettles who runs a nearby shop.
He said: "I was just letting them use it for free. I need to find out what caused the fire for a start."
A fire service spokesman confirmed the details of their operation.
He said: "The Scottish Fire and Rescue Service was alerted at 9.17pm on Tuesday, January 2 to reports of a fire in Aberdeenshire.
"Operations Control mobilised three fire appliances to an industrial building at Main Street, Rothienorman.
"Firefighters in breathing apparatus used powerful water jets to extinguish the fire.
"There were no casualties.
"SFRS crews ensured the area was made safe before leaving the scene at 11.07pm."