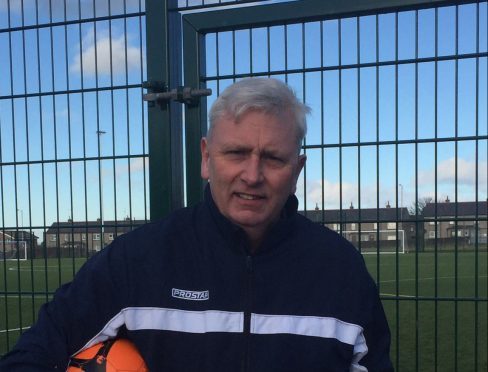 A north-east man who has given up his time to coach young footballers for more than two decades is to be honored.
Walter Innes from Peterhead has been given a British Citizen Award (BCA) for his services to the community.
The 53-year-old has sacrificed nearly every Monday night for the past two decades to train budding soccer stars at his Hexagon Football Coaching club.
In 22 years he has only ever missed five training sessions and is now teaching the children of some of the dads he originally taught.
As well as sharpening football talents Mr Innes also teaches life skills and has helped children with disabilities take part in sport and no child is discouraged or turned away.
He is one of 25 people who will be awarded a British Citizen Award medal during a ceremony in London later this month.
A BCA medal is given to people who have made a positive impact on society and have taken part in activities supporting worthy causes.
Mr Inness will receive a Medal of Honour, inscribed with the words 'For the Good of the Country' and he can also use the initials BCA after his name.
He was nominated for the honour by his friend Ross Mann who said Mr Innes has helped him.
Mr Mann said: "Walter is genuinely the most patient man I have ever met, with parents, coaches and of course with the children.
"He works full time, rushes home, misses his supper and goes straight to the community hall to set up for the night, and without a doubt he will always be the first coach there.
"Personally, he has had a big impact upon my life, as he has coached me as a player, and developed me as a person."
Mr Innes said: "I was very surprised and delighted to have been nominated as publicity and awards are not what I'm about.
"If someone had said to me all those years ago that I would still be doing this 22 years later, I wouldn't have believed them but I've loved every minute of it.
"The reason Hexagon has been such a success is the standard of coaches we have had over the last 22 years and I would like to thank them all for the help they have given me."
Pat Egan, from BCA sponsors Places for People, said: "I've heard so many inspirational stories throughout this year's judging process, and am looking forward to presenting awards to some exceptionally deserving medallists such as Walter later this month."
The British Citizen Awards were launched three years ago to recognise exceptional individuals who work tirelessly to make a positive impact on society.
The award ceremony will take place at the Palace of Westminster on January 25.