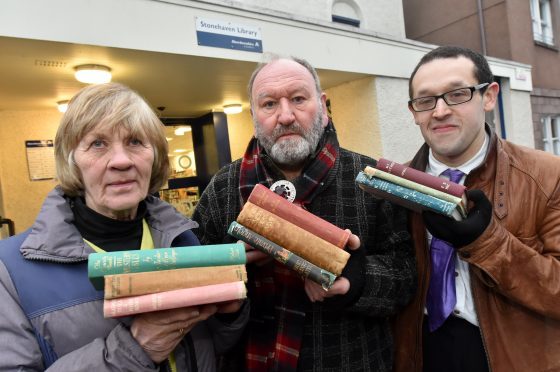 Aberdeenshire Council is poised to abandon controversial plans to create a trust to run local sports centres, libraries and museums – just weeks after approving the shake-up.
A war of words erupted between councillors last night as the local authority prepared to perform an embarrassing U-turn on the proposals next week.
But "delighted" community campaigners were celebrating the rethink.
Eyebrows were raised in November when councillors ignored warnings and agreed to press ahead with the trust despite uncertainty hanging over the future of a business rates exemption for such bodies.
And just days after the decision was taken, Finance Secretary Derek Mackay announced that the rates relief would only remain for existing arm's length bodies, such as Sport Aberdeen, but not newly-created trusts.
It meant that a scheme which was supposed to save the Aberdeenshire Council £500,000 would now be expected to cost more than £600,000 in its first year.
As a result, councillors have been advised by officials to ditch the project at a full council meeting next week.
Officers have recommended drawing up plans to create an in-house unit to oversee the services instead.
Phil Mills-Bishop, chairman of Stonehaven and District Community Council, which opposed the shake-up, said: "I'm personally delighted. It is an amazing turnaround.
"My hope is elected members take note of the recommendation and take note of the growing community campaign."
However, he added: "Who is going to account for the money that has been spent on this over the last year?"
Unison branch secretary Inez Teece, who had repeatedly urged the council to defer the decision, said: "We have been robustly engaged throughout the process, saying the same thing – that there was no guarantee there would be savings.
"We asked them to delay any decisions to avoid any expense and upset to staff. I'm disappointed they didn't listen to us."
Administration and opposition councillors last night attempted to blame each other ahead of Thursday's meeting.
Opposition SNP leader Richard Thomson admitted that the decision by his party colleagues in government had left Aberdeenshire in an "iniquitous" position.
But he added: "The Tories and Lib Dems have shared power in Aberdeenshire for eight years out of the last 10. There was plenty of time for them to get a trust in place.
"Were it not for the drift, complacency and timidity that has been the collective hallmark of previous Tory/Lib Dem council administrations, we'd have been banking the financial benefits of this years ago."
Council leader Jim Gifford said: "They had two years to push it through more quickly and didn't, so I won't take any lessons from them."
He added: "There's a report coming to full council. We could just push on as there were 10 or 11 good, solid reasons why an arm's length trust is a good idea, and one of those was business rates relief.
"That decision obviously changes the business model. It's a question of what do we do with the new information coming forward."