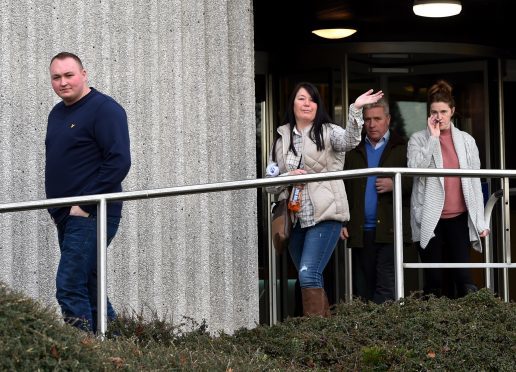 A senior councillor has said dismantling a gypsy-traveller camp is the worst enforcement action the authority has ever taken, as a homeless support worker warned it would cost thousands to rehome its residents.
Aberdeenshire Council will have to find new homes for scores of gypsy/travellers after the Scottish Government ordered the closure of the North Esk site in St Cyrus, which Shelter Scotland has claimed could cost £25,000 per family.
The facility was built on farmland close to the River North Esk in 2013, triggering opposition from nearby residents and leading to a lengthy planning battle.
The unauthorised camp secured retrospective planning permission to stay on the site, but that decision was overturned by Scottish ministers.
Yesterday councillors were asked to approve a long-term action plan to carry out the enforcement action to remove the camp by July.
There are currently almost 80 people living at the camp and many packed the public gallery to hear the discussion.
Mhairi Craig, a support worker for Shelter Scotland, spoke on behalf of the residents.
She said that the plans would potentially tear apart the "tight-knit" community and individual families.
"This is something significant that will affect these families for the rest of their lives," she said.
"This is an amazingly tight-knit community which is going to lose its home – it's not just about four walls and bricks and mortar.
"Their feelings and their rights are being disregarded and I'm having difficulty understanding why this is happening.
"Not to mention the cost to the council of putting these people through the homeless system is going to be massive – there's potentially 31 families that can live there, at the moment we have 24."
Peter Argyle, deputy leader, said there would be "no question" of "arbitrary evictions" or forcible entry into peoples' homes.
He said: "This is an extremely difficult situation.
"It has to be the most difficult enforcement situation we have had in front of this council, probably ever.
"But taking no action is not an option.
"Much might change before the next full council meeting on June 28 but for now the ministers have decided that it is unauthorised and we don't have any other option."
Planning agent Alan Seath told the meeting that he was currently in discussions with Sepa, which opposed the site due to flooding concerns, and there was a possibility the organisation could change its position.
Further discussions will take place at a full council meeting in June.