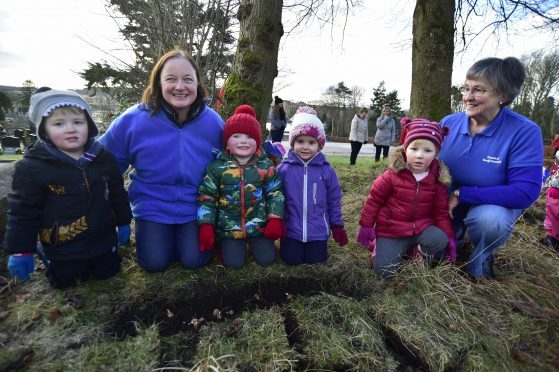 Children in Turriff have been helping the community by planting flower bulbs in their local cemetery.
More than 20 youngsters aged between three and four visited the burial ground to learn about gardening.
They were invited by the Friends of Turriff Cemetery group, who work to make the space more welcoming for people visiting loved ones who are buried there.
Morag Lightning, vice chairwoman and treasurer of the group, said the visit went well.
She said: "We got about 500 bulbs from the council and we like to get the community involved as much as possible.
"So we came up with the idea of inviting all of the playgroups and nurseries if they wanted to help.
"We showed them the snowdrops that we put in last year, they were given crocuses and they got to choose where they wanted to plant them.
"The kids loved it and the playgroup asked if we are doing it again and if so to give them a shout."
Mrs Lightning hopes the event will help inspire children in Turriff to be part of their project in the future.
She said: "It is traditionally older people who visited the cemetery, but we want the younger generation to see the history in the cemetery.
"We are trying to attract bees, we are planting wild flowers as well and by getting the youngsters in it is letting them see that a cemetery is not a scary place to visit."
Rae Farquhar, the manager of Turriff Pre-School Group, said: "We would like to thank the Friends of Turriff for inviting us because this kind of community involvement is great for the children."
The Friends of Turriff group was formed two years ago to keep the burial ground in pristine condition.
It was inspired by Joe Watson, the former Press and Journal farming editor who died in 2014.
Mr Watson had, for years, campaigned for the cemetery where his father is interred to be tidied up.
His brother, Fraser, now leads the effort to make sure the grounds are well kept.
The group also hope to create a new area for a memorial garden where people can spend time reflecting on the lives of their relatives.