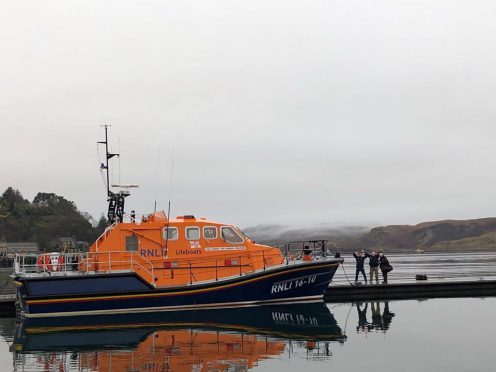 A north-east lifeboat crew are currently involved in an epic journey across Britain as they draft in a replacement vessel.
The Peterhead lifeboat, The Misses Robertson of Kintail, requires maintenance, but it cannot go anywhere until another boat is available for the crew.
The RNLI Edward and Barbara Prigmore is currently making its way back to the north-east port from the town of Pwllheli in Wales, a distance of 600 nautical miles.
However, with the Caledonian Canal currently closed for maintenance, it means the lifeboat volunteers are involved in a five-day journey home which involves travelling all the way up the west coast, round Cape Wrath and on to Peterhead.
The crew travelled south last week and left Wales by sea on Friday before progressing to Bangor and thence on to Oban.
The five-man crew, which includes coxswain Andy Brown, is travelling to Thurso today and hope to be back in Peterhead with the substite vessel tomorrow.
David Anderson from Peterhead lifeboat said it wasn't that unusual for lifeboat crews to have to carry out these kinds of tasks.
He added: "It is not unprecedented for lifeboats to have to go on these long passages because the relief boats are kept across Britain.
"But it certainly is a long way for them to come and they tend to sail from 9am until around 3pm.
"The forecasts have been diabolical, but they have not run into any problems at all.
"This is the only route they can take and it is well sheltered by islands and things like that.
"I have not heard a negative comment from any of the crew."
Mr Anderson said the Misses Robertson of Kintail will be going for a major revamp once its replacement arrives in Peterhead.
He added: "Our boat will go on a trip like this when it undergoes maintenance although I do not where that will be yet.
"We got her in 2006 and I think it is due a major refit.
"So we will take the opportunity to do that while there is another boat in the station."
The progress of the lifeboat can be followed at https://www.marinetraffic.com/en/ais/home/centerx:-5.1/centery:57.3/zoom:8 by searching for RNLI LIFEBOAT 16-10.