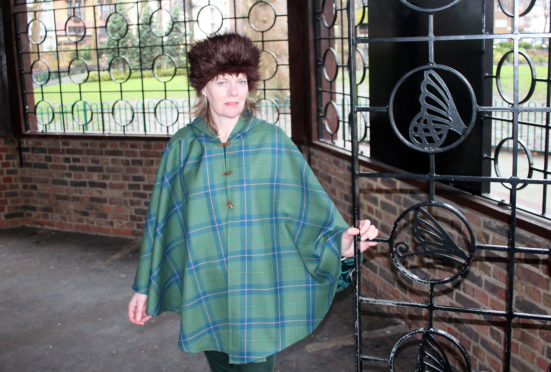 A special Sherlock Holmes tartan has been designed by a descendant of the author of the beloved book series.
Tania Henzell, 51, is the step-great-great-granddaughter of Sir Arthur Conan Doyle, the brains behind the famous detective Sherlock Holmes.
The popular character's iconic deerstalker hat has been re-imagined with the eye-catching pattern.
The piece of cloth has muted green and blue base colours, an ice blue stripe edged with soft brown, and a bright yellow stripe edged with a darker green.
It is registered with the Scottish Registry of Tartans.
Mrs Henzell, the managing director of the Sherlock Holmes Tartan, is proud of her design and hopes he will be remembered for the next couple of generations.
The mother-of-four from Dinnet, Aberdeenshire said: "The whole idea behind creating my first ever tartan came from knowing that most famous Scottish people have a tartan.
"So this time last year when I wanted to create one, I was told I couldn't. This year I was accepted to create it.
"There is already a Doyle tartan so I had to be different.
"The colours were chosen by looking into his personal life.
"The muted green comes from his Irish descent. The blue represents his from Edinburgh or Scotland, depending on how you look at it.
"The ice blue stripe represents the Reichenbach Fall, where Holmes supposedly had his end.
"And finally, the gold stripe is to show he was the best detective in London at the time."
In an early Sherlock Holmes story, it is revealed that the detective owns a book called "Historical tartans of Ancient Scottish Clans".
He uses the sizeable tome to deduce that the victim of an attack is from the Nairn area of Scotland due to him having a hat bearing the Brodie clan tartan on it.
It appears in the short story "The Mystery of the Nameless Man" and leads to Detective Inspector Lestrade travelling to Lossiemouth, Moray, to find the Scottish man's attacker.
Sir Arthur Conan Doyle was born in Edinburgh and studied medicine in the city.
He then moved to Portsmouth where he became a doctor and in 1887 published A Study in Scarlet, a detective novel which marked the first appearance of Sherlock Holmes and Dr Watson.
Conan's youngest daughter was married to Tania's great-grandfather.
Mrs Henzell is currently making handbags and faux fur hats a well as cushion covers, ties, braces and cummerbunds from the Sherlock Holmes tartan, which can be ordered online.
She hopes that her designs will be remembered as a piece of family history.
She added: "I feel so proud to be related to him. He was such a wonderful man who was excellent at what he did.
"I never got the chance to speak to his daughter much but when I realised he was a popular man for his books I knew it was an honour to be classed as a relative.
"It took me a couple of months to design the tartan, I would like to think he would be happy with it."