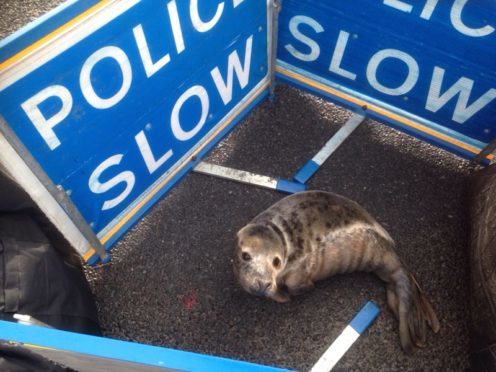 Baffled police were called out to deal with an injured baby seal after it wandered half a mile from a north-east estuary on to a busy country road.
Sjoukje Terpstra, who lives at Collieston, came across the pup as she was driving along the A975 near Newburgh yesterday morning.
The marine mammal had injured one of its flippers as it waddled up the road towards Cruden Bay in Aberdeenshire.
Miss Terpstra said she initially had to convince police to attend the emergency because it was such an unusual place to find a sea creature.
The incident comes days after armed police in the area were scrambled to the scene of a local farm to tackle a tiger – which turned out to be a cuddly toy.
Miss Terpstra said she raised the alarm on her way home from the morning school run with her son.
She said: "I had just dropped off my oldest boy and saw cars flashing their lights at me to slow down.
"I saw a seal there and thought I couldn't leave it alone because the road is bad for people driving too fast.
"I phoned 999 and they did not believe me at first because it wasn't near the sea.
"I got a mat from my car and managed to keep the seal away from the middle of the road."
Police set up road signs around the small creature to keep it safe until experts from the Scottish SPCA and British Divers Marine Life Rescue arrived to rescue the animal.
Officers closed one lane of the road to protect it from oncoming traffic.
It is thought to have wandered on to the road from the nearby Forvie Nature Reserve which is home to large colonies of seals.
The creature was taken away to the SSPCA rescue centre in Fishcross where it will be examined and treated.
Lee Watson is a volunteer medic with the British Divers Marine Life Rescue and helped lift the pup carefully into an SSPCA van.
He said: "The pup looked in good health but because it had some damage on its flippers and it has been on the road it is best to get it away with the SSPCA to get it checked.
"I would think it has come out of the corner of the reserve next to the Forvie Nature Reserve car parks."
Scottish SPCA animal rescue officer Michelle Graham said: "We were alerted to a seal pup who was found at the side of a road.
"We're pleased that the seal pup is on its way to our National Wildlife Rescue Centre in Fishcross where it will receive treatment before hopefully being released back into the wild."
Police confirmed they assisted at the scene until the SSPCA arrived.