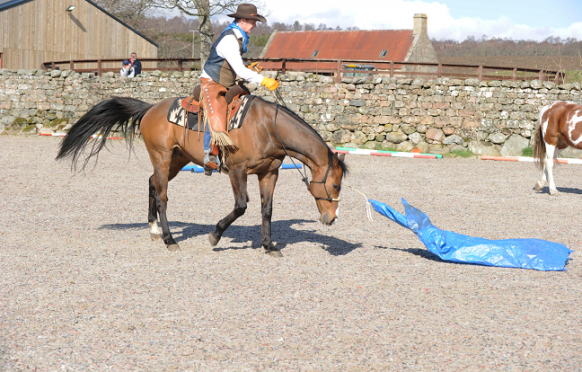 The work of a north-east charity has been hailed as "extraordinary" in Holyrood as MSPs called for greater support for military veterans.
Horseback UK, which is based near Aboyne, was repeatedly singled out for praise during a debate in the Scottish Parliament last night.
The charity, founded by Jock and Emma Hutchison, uses horsemanship to rehabilitate wounded service personnel and is now seeking financial support to expand its work.
North-east MSP Liam Kerr had moved a motion recognising the "vital" role that 320 such charities play across the country.
During the debate, he said: "The courses and voluntary programmes at Horseback UK give participants a place where they can learn new skills while overcoming any physical limitations, and by taking a wholistic approach, aid mental and physical recovery.
"The impact that this charity has had on the lives of those they have supported has been extraordinary."
The Conservative MSP added: "I would like to urge the Scottish Government to continue to look at ways in which we can highlight and support veterans charities and groups, particularly those smaller ones like Horseback UK.
"Without organisations like Horseback UK, the cost and impact on our local services and local authorities could be great, and the negative impact on the veterans even greater.
"And the positives that arise to society, individuals and the economy as a result of this work are considerable."
Veterans Minister Keith Brown said: "In my experience, having visited Horseback UK, it really is the case that sometimes it is able to reach out to veterans in a way other charities are not able to.
"The way it can change people is quite extraordinary."
Last night, Mrs Hutchison said the group was keen secure backing to build around 10 cabins at a nearby former school site, at a cost of about £10,000 each.
"Now that we've widened our remit we're up to capacity and need to expand to do that. If we had that second site we could double in size," she said.
"We're working with some of the local academies and working with disengaged youths, but also lots at the other end of the scale, teaching them leadership skills.
"It would be very nice if the Scottish Government would fund it but we are really looking for anybody who can help."