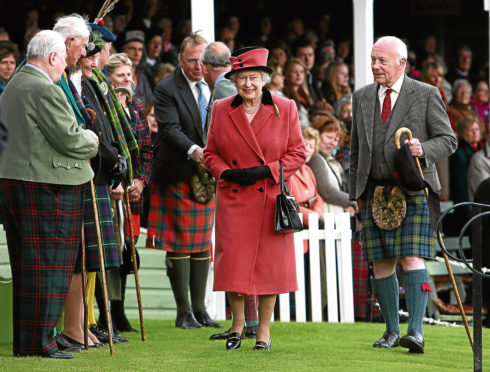 The former Lord Lieutenant of Aberdeenshire, Sir Angus Farquharson, has died at the age of 82.
Born at Haydon Bridge, Northumberland, in 1935, his family moved to Aberdeen at the outbreak of the World War II.
He attended Aberdeen Grammar, Lathallan and Drumtochty Castle schools before going to Glenalmond College.
An aircraft accident resulted in him breaking his back and also prevented him from doing national service, however, he went on to graduate from Cambridge University in 1956 with a degree in archaeology and anthropology.
After training as a chartered land agent, Sir Angus briefly worked as assistant factor at Dupplin estate, near Perth, before moving to Fochabers to work with the Crown Estates.
Formerly named Angus Miller, he married Alison Farquharson in 1961, adopting her surname, and her father then gifted the couple the Finzean Estate on their marriage.
They settled in Balnabooth Farm on the estate in 1969, and were blessed with three children Jean, Donald and Andrew.
Sir Angus was instrumental in creating the Birse Community Trust and was a long-standing church elder.
In 2008 he published a book entitled 'Finzean, The Fair Place' which celebrates the last four decades of the Deeside estate.
Sir Angus organised numerous royal visits and congratulated many centenarians and diamond wedding couples while performing his duties as the Queen's representative between 1984 and 2010.
Yesterday councillors paid tribute to the community champion who devoted many years to serving the north-east.
Aberdeenshire Provost Bill Howatson said it had been a "privilege" to have known and worked with Sir Angus adding: "When I became provost of Aberdeenshire in May 2007, my first letter in office came from Sir Angus wishing me well in the post. It meant a great deal to me at the time. As a newly elected provost he was unfailingly helpful and always encouraging.
"He carried out his duties in an exemplary and gracious manner and he was hugely respected by a wide range of individuals with whom he came into contact.
"He left a very proud legacy which will not be easily forgotten."
Fellow councillor Peter Argyle also praised Sir Angus as a "true gentlemen" by everyone who knew him, adding: "I first met him while canvassing in Finzean for 1999 council elections and thereafter at many formal events.
"His dedication to Finzean and Aberdeenshire was profound. Throughout his term as Lord Lieutenant he was always approachable, always interested and it was always a pleasure to be in his company.
"He will be long remembered and I am certain that he will always be remembered with a smile and with gratitude."
In 2010 he was made a Knight Commander of the Royal Victorian Order (KCVO) in the Queen's New Year's Honours list and was formally presented with the honour by the Queen at the Palace of Holyroodhouse in the July of that year.
Sir Angus had said after the ceremony that it was "a great thrill and a tremendous honour" to be knighted.
He retired in the same year from his Lord Lieutenant role after nearly 16 years serving Aberdeenshire communities on behalf of the Queen.
He died on January 10, aged 82.