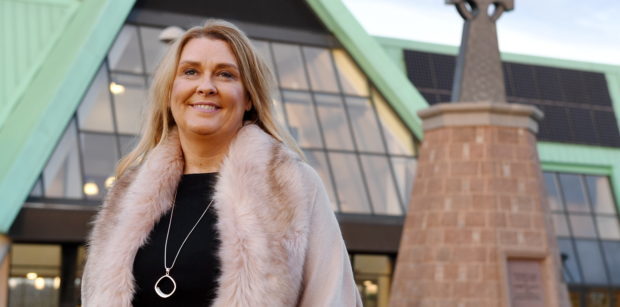 Councillors have agreed to provide £71million for a new community campus in Peterhead as part of the long term capital plan for the authority.
The move was welcomed by local councillors who collectively praised the "hard work" which had gone into the town's master plan.
A location for the new "super school" facility is yet to be decided, but leader of the Aberdeenshire council Jim Gifford said the "process starts today".
This project has been much promised and is finally on its way," he told a meeting of the full council to agree the authority's budget.
The community campus would include a secondary school, primary schools and leisure facilities.
Officers will now begin a business case for the project which has been scheduled for completion between 2023 and 2028.
Peterhead North and Conservative councillor Dianne Beagrie said she was "proud" that action had now been taken and it was "fantastic news" for the whole community.
Mrs Beagrie said: "We have worked very hard to get Peterhead onto the Capital Plan and it's great to hear from councillor Gifford today that the process will start straight away.
"I know that it's in the 2023 plan, but it will take time and we keep pushing it forward whilst engaging with the community every step of the way."
Alan Buchan, who also represents the town, tried unsuccessfully to bring forward the spending to the next financial year.
But Mrs Beagrie said: "We want to make it quite clear to the community that we have pushed for nine months to get it in, fully aware that these things take time. It would be totally unrealistic to try and build it any quicker."
Councillors across all parties spoke to welcome the project and SNP councillor Stephen Smith praised the cross-party "hard work" that they had done together "for the common good of the town".
Troup councillor Mark Findlater said the council had secured the "future of the bairns".
He added: "I'm delighted for Peterhead – it has been a long time coming."
The Capital Plan outlines £860million of investment spending across a 15-year period and also includes a £6million spend on the Hill of Banchory sports centre and £51million on the new Inverurie community campus.
It will be financed by Scottish Government grant funding, borrowing and sales of property.