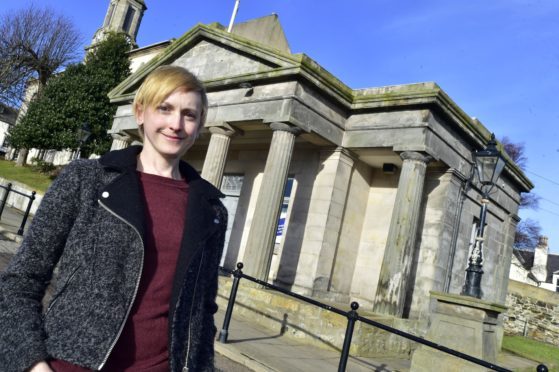 A supermarket worker has unveiled plans to turn a former tourist information centre into a vegan restaurant.
Emma Willats want to convert the former office in Banff into a new cafe, called Food without a Face.
The 33-year-old visualises making the vegan-friendly diner environmentally friendly, powering it with renewable energy.
Now she has launched a crowdfunder to help turn her dream into a reality, with an initial target of £5,000 in mind.
It would cover the initial rent, refitting the office, decoration, equipment and stock.
Miss Willats said: "I realised there was a definite lack of help for people who were looking to become plant based and so I started to develop an idea for an app that would give people directions to the nearest vegan friendly business no matter where they were in the world.
"I've always loved food and I'm not a salad eating kind of person, so what really appeals to me are the foods that vegans would normally miss – scrambled "eggs", meat-free bacon and burgers, chunky wraps and, most importantly, good coffee and cake.
"With that in mind, having sampled a lot of what the area has to offer, I've noticed a distinct lack of vegan-friendly businesses.
"This would be my absolute dream location – close to the sea, excellent parking, very reasonable rent and a whole lot of potential to make this the best vegan cafe around."
Miss Willats has said the effort to launch her business does not come without its own unique challenges.
She said: "The biggest risk is that the building may go to someone else.
"The closing date is February 28 and there are several noted interests. This money will allow me to bid higher than I would otherwise have managed and may secure the lease."
If the building is unavailable, I will keep pushing on and find somewhere else equally as suitable."
To back her plan, visit www.kickstarter.com/projects/fwaf/open-a-vegan-cafe-in-banff-scotland