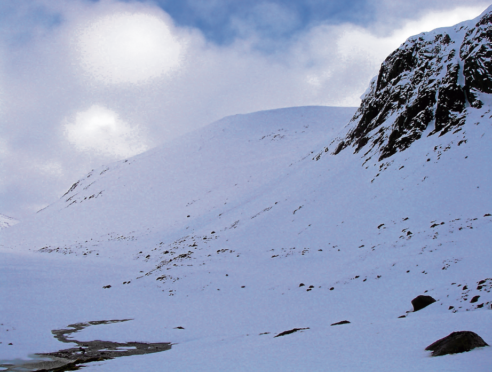 Two men were still missing last night as mountain incidents in the north reached 14 – prompting police to issue a warning to walkers and climbers.
Mountain Rescue Teams and the Coastguard helicopter were again called into action for multiple searches for three climbers yesterday.
The latest incidents came as Police Scotland urged the public to think twice about taking to Scotland's mountains in treacherous conditions.
Rescuers have been called out 14 times in the past week to incidents, including one fatality.
In the latest search yesterday, Coastguard helicopter Recue 951 airlifted two men from the Cairngorms who had got into difficulties despite being well-prepared.
Cairngorm Mountain Rescue Team leader, Willie Anderson, said: "Two guys, near the shelter at Loch Avon, got exhausted and spent the night in a snow hole.
"One of them was worried about his mate and went to raise the alarm, at about the same time two skiers found them and one skimmed back up and sent us a very good report of their location."
He added: "From that we were able to direct 971 to lift the casualty and went got the other one who was airlifted too."
Both climbers were transported by helicopter to Raigmore hospital as a precaution with one showing signs of being hypothermic after a night in sub-zero temperatures.
Rescue 951 was then sent back out to assist Lochaber Mountain Rescue Team (LMRT) as members resumed their search for a climber missing for over 24 hours.
Police were alerted at 3.50pm on Sunday to reports of the 55-year-old climber having fallen while climbing Beinn a' Chaorainn on the northern side of Glen Spean.
Elsewhere, rescuers on the west coast stood down their hunt for a man who went missing after heading for Achnashellach on Thursday morning with his brother.
The extensive search was conducted by the Dundonnell, Torridon and RAF mountain rescue teams and sniffer dogs.
Police Scotland confirmed there were no plans to resume the search for Neil Gibson, from Nairn, until there is "significant snow melt", indicating that the 63-year-old may have been buried under an avalanche.
The body of his brother Alan, 56, who lived in North Cumbria, was found at the weekend.
Chief Inspector Neil Anderson, Operational Support Division and Land based Search and Rescue lead for Police Scotland, said: "Unless you are an experienced hillwalker or mountaineer I would advise against venturing into the hills if there is any likelihood of the conditions becoming adverse. Stay up to date with weather and Avalanche forecasts and be prepared to change your plans if the weather is expected to change. If you are not experienced it is a good idea to stick to the lower or less challenging areas.
"Take some emergency rations with you, just in case and make sure you know what time the sun sets and allow yourself plenty of time to get off the hill before darkness falls."