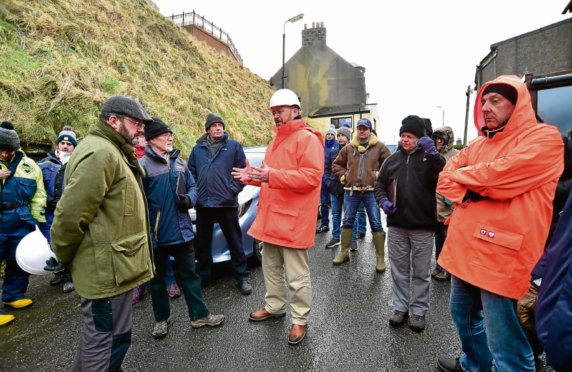 A north-east MP has vowed to help fix a "broken" landslide-hit village.
Banff and Buchan member David Duguid met residents in Gardenstown yesterday at Harbour Road which has been closed to traffic for weeks, effectively cutting the coastal community in half.
It came as work on a permanent solution to the crumbling cliff began with experts from Bam Ritchies drafted in.
Mr Duguid and councillor Mark Findlater met around 20 villagers just yards from the concrete barriers currently in place to restrict access to Harbour Road.
He heard concerns about the use of locked gates at the route and the threat the shutdown poses to businesses.
Mr Duguid said: "Obviously the residents and business owners are very frustrated at not having access.
"I am here with Councillor Findlater just to listen to concerns and see what the issue is.
"My aim from here is to get in touch with the council and get that assurance that everything is being done and this could be open as soon as possible.
"The bottom line is we want to see the road open again.
"They don't want the side of the hill falling on top of them and they recognise that it needs to be assessed.
"But as one resident put it: the village is broken and it needs to be fixed.
"It is like having the best car in the world but if there is a wheel missing you can't use it , we have got half of the village here not getting any work or business done and that needs to be fixed."
Andy Sturdy, secretary of Gardenstown village action committee, was among those who went to speak to Mr Duguid.
The closure of Harbour Road means villagers living in the bottom cannot reach the top in their cars, and he said having regular access is crucial.
Mr Sturdy said: "It is good to finally see the geotechnical survey under way.  Everyone is asking why it took so long.
"Clearly access will be restricted for the time this survey takes, which regrettably may be as long as four weeks.
"The council have now committed to opening on Friday afternoon and Saturday during the survey, and we have asked for Sunday opening as well. We would like these times to have longer hours into the evenings.
"If a temporary solution can be found then maybe the permanent work should be delayed until after the spring and summer fishing and tourist season. Access is the most important consideration."
Geotechnical teams will be in Gardenstown over the next few weeks to assess the landslip.
Earlier this week Aberdeenshire Council agreed to look into the possibility of opening Harbour Road on a regular basis.
There will be a supervised opening between 9am and 4pm today.