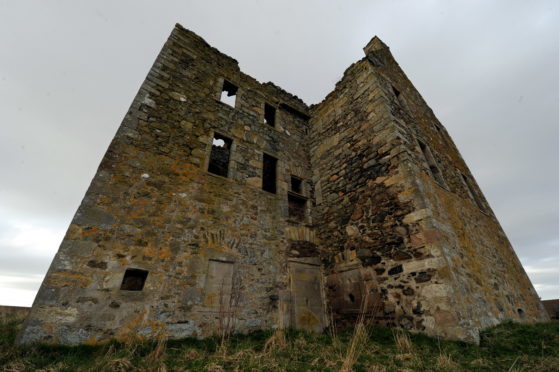 An historic north-east castle, which was given as a birthday present, is still on the market for prospective buyers.
Knockhall Castle, which sits near the mouth of the River Ythan, was built by Lord Sinclair of Newburgh in 1565 and was destroyed in a fire nearly 200 years later.
The three-storey towerhouse near Newburgh is owned by Nicholas Schellenberg, who was handed the keys to the property as a 21st birthday gift.
The ruined structure was put on the market at the start of last year with an asking price of £130,000.
An architectural firm has said the best option for it is to convert into a new home.
And a statement from Boydell Architecture said potential buyers should not be put off by the scale of the project.
It said: "There really is only one obvious choice for Knockhall Castle – to restore the building as a house.
"This is a classic piece of Scotland's heritage, steeped in history, oozing romantic charm and intrigue, simultaneously rugged and elegant, with an endless view across rolling farmland to the North Sea.
"The fact that it has been a ruin for almost 300 years should not deter the potential restorer.
"But how to make the most of that restoration poses some much more challenging questions."
Speaking in 2011, Mr Schellenberg spoke of his desire to transform the medieval structure into a modern building.
He said: "Fortunately, because of the good mortar and quality of the original build, the castle has remained fairly intact. The roof has gone but the walls are quite substantial.
"It's all very well hanging on to a romantic ruin, but far better to restore it to a state where people can actually live there, and the only way to do that is by putting on a roof.
"Restoration can become a bottomless money pit with each succeeding generation spending vast amounts of money trying to finish the job."
Knockhall is on Historic Scotland's Castle Restoration and is a B-listed building.
The register contains details of protected castles and tower houses which have the potential to be brought back into use without compromising their national or historical importance.