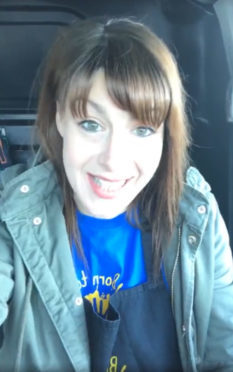 Parents and young children were locked out of a north-east venue after – quite literally – being messed around by Aberdeenshire Council workers.
Macduff town hall was due to host the Mess Around North Aberdeenshire event yesterday morning.
Around 40 kids were booked in for the jungle-themed messy play event, but the organiser was left with no choice but to pull the plug after being unable to enter the building.
The council responded their staff were "unaware" of the situation and insisted they had spoken to the organiser.
But Emma Davidson, who has been running the events across the north-east for the last year, said the incident had left her "devastated."
She posted a video on social media site Facebook while waiting outside the hall in an attempt to reach those planning to attend.
She added: "I was there at 8.15am and there was nobody to let me into the hall. I tried emailing Aberdeenshire Council and I didn't get a response.
"The event was supposed to start at 10.30am and I am not even in the door. I need at least two hours to set up.
"I'm devastated. I had 40 people coming along and there was no way I can get set up. This has never happened before."
One woman, who did not want to be named, was due to attend the event with her young son and urged the council to ensure there was no repeat of the confusion.
She said: "I would like them to be more organised and apologise to the organiser who put in so much time and effort into preparing all the items for the event.
"Not only was she sitting waiting for two hours, but she then had to let down 40 parents and 40 young children.
"There may have been a very good explanation for the hall not being opened, but if the council had been easier to contact or contacted the organiser, this could have all been avoided."
An Aberdeenshire Council spokesman said: "Unfortunately, our local team was unaware of the issue and would have been happy to help if we had known in time.
"We have since spoken at length with the event organiser and have accommodated her request for a new date for the booking."
The rearranged event will take place on Wednesday, February 21 at 10.30am.