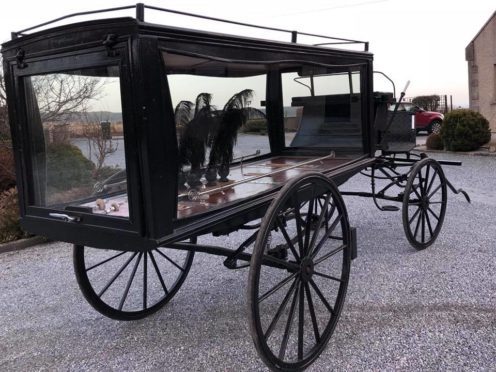 A horse-drawn hearse owned by an Aberdeenshire man has been put up for sale.
An online advertisement offering the carriage to potential buyers said it was in "lovely condition" but needed some work.
The hearse features a black Ostrich plume and shafts and poles used by funeral directors to move coffins.
Owner Graham Whyte from Huntly bought the "eerie" item on a whim but has decided now is the time to move it on.
He said: "I have been interested in horses for a lot of years, but I don't have horses now.
"Buying the hearse was a spur of the moment decision. I was down in the south of Scotland on business and came across it then.
"So it came home and it was cleaned and was put in the shed and it has just sat there.
"It's certainly quite a niche thing.  I have never seen one up here before."
Mr Whyte is hoping to find out more about the hearse so he can fill in any gaps of its past.
He said: "We are trying to find out a wee bit of history about it, but I don't know that much at the moment.
"There have been one or two people speaking about it, but if it doesn't sell it'll just sit in the shed.
"For someone that is in the funeral business it would be ideal because people are looking for different things nowadays.
"I was speaking to someone who told me they had to one a few years back and it came up from Wales.
"I have kept a very open mind with it. Someone could get a lot of use out of it."