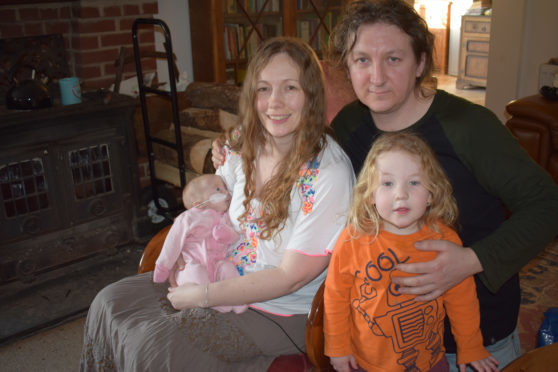 The parents of a baby born with a rare syndrome have been told she will not be offered a life-extending operation in Scotland.
Willow Scanlan was born with a hole-in-the-heart and was later diagnosed with Trisomy 18 or Edwards' Syndrome.
Cardiologists in Glasgow yesterday took the decision not to go ahead with an operation to repair the 16-week-old baby's heart and told her parents that a palliative care path would be more appropriate.
Speaking last night, Willow's parents Gina and David Scanlan, of Fyvie, said they had felt "sickened" by the news and said they would now be asking for a referral to the NHS in England, although "did not hold out much hope" this would be successful.
Mr Scanlan said: "We need to try to exhaust every route we can in the UK, as getting the operation carried out here would be less risky for Willow."
The family have shared copies of echocardiograms – images of Willow's heart – with doctors in America, after they were contacted by surgeons reading of their plight in an online edition of the Press and Journal.
Mr Scanlan said they had received confirmation from one cardiac paediatrician based in Omaha who had reviewed his daughter's results to say they would be willing to carry out the repair within two months.
"In the States they are talking about 'how can we fix this' but over here they are just all about 'keeping her stable', said Mr Scanlan. "They could give her another 15-20 years – but here we have been sent home with what is essentially palliative, end of life care."
A spokeswoman for NHS Greater Glasgow and Clyde said: "The outcome of the inter-disciplinary meeting regarding Willow's treatment will be shared with her care team in Aberdeen."
Mr Scanlan received a phone call from the cardiac team based in Aberdeen last night who explained the reason behind their decision, Mr Scanlan said: "They said at the moment Willow's defects are balancing out each other and that a stable palliative care path is most appropriate."
The family believe they are being discriminated against, due to Willow's Edwards' diagnosis as prior to this they had been told the operation would be "routine practice".
They are now trying to raise money to pay for the surgery in America before they run out of time.