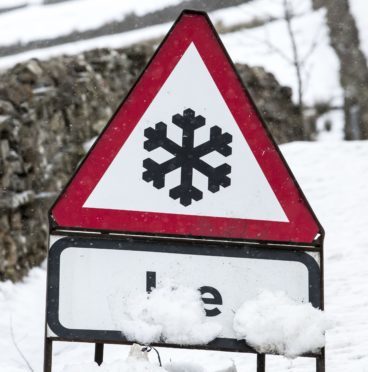 A storm dubbed the 'Beast from the East' has begun to cause chaos, with schools and roads across Scotland affected on Tuesday.
Weather experts expect as much as nine inches to fall across the north-east today, when the worst of the storm makes landfall over coastal communities and have issued an amber warning for heavy, persistent showers.
Even on Tuesday, after a freezing night, transport across the region was thrown into disarray.
Schools across the north and north-east were forced into making changes to bus routes because of the chill on the roads and forecasts of drifting snow.
Craigievar, Lumsden, Gartly, Towie, Easterfield, Largue, Daviot, Keig, Tarland and Logie Coldstone schools were all closed to pupils and staff for the day.
Others, including Fraserburgh Academy, Alford Primary School and Banchory Academy delayed their opening and had buses take alternative routes to keep classes running.
Parents are being urged to monitor council and school websites for information as the storm progresses.
Flights from Aberdeen Airport were also hit by the freeze, with departures to Sumburgh delayed and flights to Durham, Manchester and London called-off.
Similarly, flights from Durham, Manchester, Norwich and London were grounded on Tuesday.
Now, ahead of even worse weather arriving, the Transport Minister has asked people to think twice over venturing out.
Humza Yousaf said: "There is a possibility that the amber warning could in some areas be upgraded to a red.
"That is a warning for snow that we have never seen since the modern system has come into place in Scotland. That's what the Met Office tell me.
"We are right on the cusp. We are at the strongest possible amber warning and right on the cusp of potentially becoming a red.
"That means a high likelihood of a high impact so that could be not just treacherous but frankly dangerous if you travel."