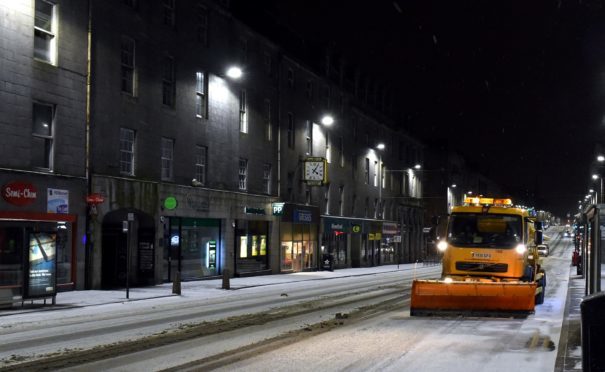 Schools and roads across the north-east were closed yesterday as the region succumbed to the Beast from the East.
Snow started to fall overnight across Aberdeenshire and by the morning police were advising people to not risk driving.
Almost every school in the north-east was hit, with parents told not to take their children to classes in fear of the weather worsening.
Schools including Fraserburgh Academy, Aboyne Academy, Inverurie Academy and Dyce Academy cited the weather and difficult travelling conditions as the reason for the closures.
Those that did stay open were only for pupils who could travel safely.
At Banff Academy, just two pupils attended.
The chaos caused by the storm came after Transport Minister Humza Yousaf warned the region the country was on the cusp of experiencing its worst weather since records began.
The Met Office had warned there would be wide-spread disruption.
And through the day yesterday, police reported a number of car crashes including two jackknifed lorries on the roads.
One on the A90 skidded off the road near Muchalls while another crashed on the route at Boddam.
Officers eventually closed the road at the Toll of Birness junction amid reports that motorists were facing standstills and whiteouts.
A spokesman for the police's roads team branded the roads "hazardous".
"If you need to drive, stick to main roads where possible," he added.
"Wind is causing snow to drift, especially in north Aberdeenshire and Moray, and visibility is reduced. If in doubt, do not drive on minor roads unless you know they are clear of drifts or obstructions."
Chief Superintendent Stewart Carle, the force's head of road policing, added: "We can't stress enough that all travel should be avoided unless it's essential being absolutely necessary and extremely important.
"Employers and public services need to carefully consider how that criteria meets their urgent business needs."
And from the Met Office's control centre, Mr Yousaf said: "We have a red warning in place covering much of the central belt from 3pm right the way through to 10am on Thursday morning.
"Added to that, of course, we have the amber warning which is until Thursday 6pm. That covers most of eastern Scotland, but also the central belt and to the  west and Glasgow.
"If you are in that area, that is affected either by amber or red, the advice could not be simpler and could not be clearer – avoid travel."
He added that the weather was going to get "even more treacherous".
"Keep yourself safe and keep others safe," he said.
Aberdeen Airport, meanwhile, cancelled its flights to England and the Netherlands.
Flights headed to the city from Norway, Orkney and England were also grounded.
A spokesman for the airport said teams were on standby to clear drifting snow.
They said: "In the event of adverse weather conditions, our air-side operations and snow-clearing teams are on standby to ensure Aberdeen International Airport's runway remains fully operational.
"Passengers are advised to check their flight information at intervals prior to flying."
And ScotRail cancelled all trains in red warning areas.
A spokesman said: "We are looking at what services can run, but a red warning means a risk to life.
"It's looking horrendous and snowing heavily in places."
Aberdeen, which was expected to escape the worst of the snow, also found itself battling power cuts which affected about 27,000 homes.
A spokeswoman for Scottish and Southern Electricity said power was disrupted between 6.25am and 7.14am.