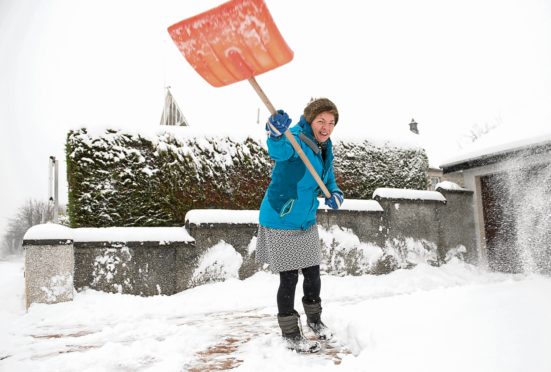 The Met Office confirmed last night that weather warnings across Scotland could last until next week as the Beast from the East continues to create significant problems.
The heaviest of the snowfall is expected to land across the east coast, with towns and villages on high ground braced for the worst.
And Met Office meterorologist Aidan McGivern declared the weather would be "about as serious as it gets" over the coming days.
He said: "It's so serious, in fact, that the Met Office has issued a rare red warning for parts of Scotland.
"We've already seen snow showers piling into much of Scotland as well as northern England over the last few days.
"Accompanying these snow showers are strong easterly winds and that means the snow will pile up and it will drift.
"In some locations, we are also looking at the risk of blizzards."
As much as 10cm is expected to have built up overnight for this morning.
Mr McGivern added this accumulation could result in severe disruption for many communities.
He said: "Even where you don't have the snow and the ice, it's going to be severely cold.
"It's very important that you stay up-to-date with the forecast and the weather forecast over the next couple of days."
A spokesman for the Met Office in Aberdeen said the snow was not expected to start clearing until Sunday.
He added: "The daytime temperatures today were very low, sub-zero across Aberdeenshire and Moray.
"It was -5.3C at Braemar and the station nearest Inverness was -2C.
"We still have the amber warning out for much of the area, and a yellow warning over Inverness. We are looking at snow showers continuing across the east, but parts of the west Highlands could be clear and dry.
"It's going to be another cold day on Thursday, but the temperature could be up from today – although we're still looking at about -2C in Aberdeen.
"There will also be strong winds, so there will be drifting snow in higher routes and there could be issues with roads being blocked.
"It's only going to get slightly better as time goes on, and it could well be warnings are extended to Monday."
The lowest recorded temperature in Scotland was -27.2C in both 1995 and 1982, from Altnaharra in the Highlands and Braemar respectively.