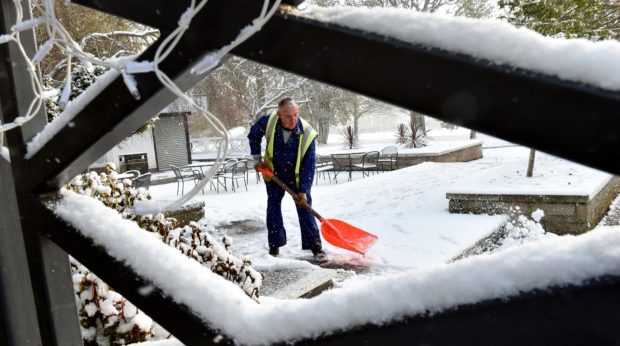 A scheme launched by Aberdeenshire councillors last year has drafted in some new Mearns recruits.
But one of those who joined the snow warden initiative suffered problems from the Beast from the East yesterday – when she herself was cut off by the Arctic blizzards.
The volunteer warden initiative was introduced as part of the council's winter maintenance strategy.
And three Stonehaven residents stepped forward to help out in the town, prompted by the cold snap experienced in December.
Stonehaven and District Community Council chairman Phil Mills Bishop said a meeting with a member of the council's roads department had highlighted the virtues of the idea.
However, one warden, Christina Sullivan was in need of help yesterday, after she found herself completely cut off by the snow.
Mrs Sullivan lives in a rural area just outside Stonehaven and was forced to wait for a local farmer to clear her single-track road before she could go about her duties.
She said: "This is not unusual for us, but I'll soon get out and nip down the road."
In an information pack distributed to would-be wardens, the council has outlined its Snow Code which should be adhered to for the authority's insurance purposes.
It states the duties are: "To make sure you clear pathways safely and effectively; clear snow early in the day; don't use water – it might freeze; and to use salt if possible."
The guide adds that the wardens "will not be held responsible" if anyone falls on a path that they have cleared, and that "people walking on snow and ice have a responsibility to take reasonable care of their own safety".
Mike Duncan and Jim Stephen make up the trio of Stonehaven snow wardens who will also help clear snow from vulnerable neighbours' paths and check on local grit stocks.
Further inforamtion is available here:  www.aberdeenshire.gov.uk/media/21803/volunteer-snow-warden-welcome-pack.pdf