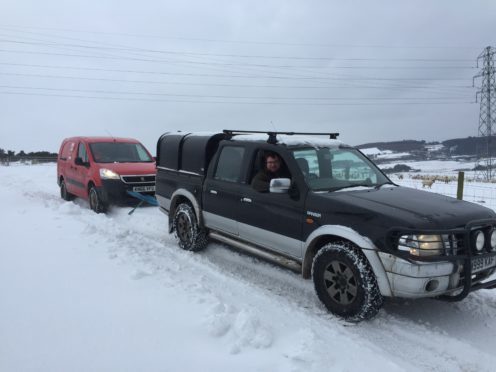 A pair of Aberdeenshire brothers ensured a stranded postie was able to complete his rounds after his delivery van became stuck in snow.
Guy and Mungo Finlayson had been driving their truck along a road between Kinellar and the A-Line Audio and Visual store, near Clinterty, when they noticed the struggling postman trying to dig his Royal Mail vehicle free.
The brothers, from Banchory, had packed a tow rope in their Ford Ranger as they feared the worst after the Beast from the East dumped inches of snow across the region.
Guy Finlayson said: "The Royal Mail van was stranded in a snowdrift, with the postie trying to dig himself out.
"There was a fairly deep drift blowing across the road and we have had it quite bad in the surrounding areas.
"Thankfully we had straps in the truck, so hopped to it and he was as happy as anything about being able to finish his rounds."
Guy and Mungo Finlayson, aged 25 and 28 respectively, run the MFGF Events company, which stages the Banchory Beer Festival, Inverurie Beer Festival and the OriGins gin event in Aberdeen's Duthie Park.