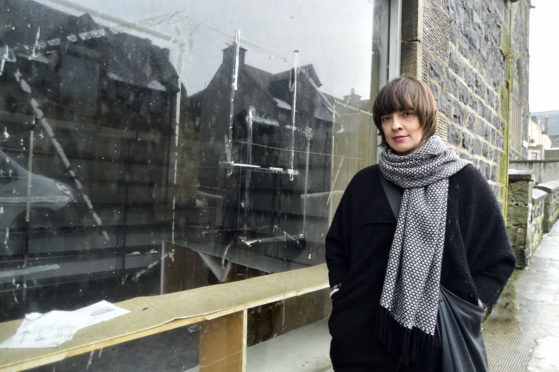 An artist is converting the inside of a vacant shop into a giant scratch card as part of an event aimed at reviving a north-east town.
The Macduff Revival Weekender takes place on Friday and Saturday and features performances, exhibitions and film screenings.
Organisers hope to use empty shops and other venues to inspire locals to come up with their own ideas about revitalising the area.
Artist Alicja Rogalska (CORR) has been busy preparing her installation, called Scratching the Surface, at an empty store in Duff Street and said that despite the novel nature of her work it has a serious message.
Local residents will be invited to scratch the inside of the shop off in exchange for new ideas for Macduff's future.
She said: "It is an excuse to speak to people about the future of Macduff in terms of the economic situation and the future of arts funding.
"We are trying to start a debate and would like to hear people's views.  It is just a matter of sharing them and displaying them in the shop.
"Basically the shop will be painted with a special paint and people can come in and scratch it off."
Macduff Revival producer Tessa Fitzjohn said the event was organised to help give the community a voice.
She said: "Alicja's focus is to invite people to think about the future of Macduff.  My experience of wandering round the streets is that there is a feeling of helplessness.
"So what we are trying to do is start a conversation, get an idea and speak to people about what they want.
"We believe that art has the ability to raise the profile of Macduff by revealing and re-interpreting its history, its place and its people."
Other events at the festival include a talk by chef and artist Katy Stewart, who cycled with a four stone bag of organic wheat from a farm near Macduff to the nearest operating mill in Golspie, Sutherland.
There will also be an arts and musical display submitted by pupils at Banff Academy.
The Macduff Revival Weekender begins at Macduff Arts Centre on Friday at 6.30pm with a screening of a film focussing on the life of James Duthie, a deaf man from Cairnbulg who cycled to the Arctic Circle in 1951.
More information about the Macduff Revival Weekender can be found at https://macduffrevival.wordpress.com/