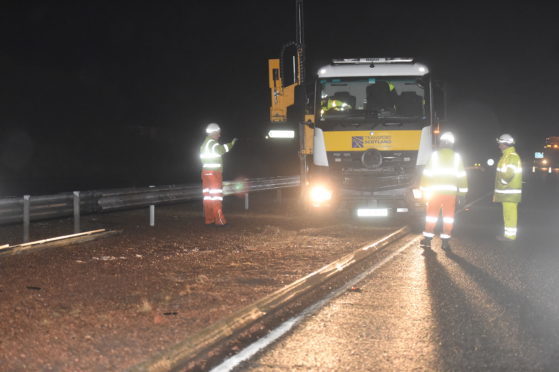 Dozens of motorists suffered punctured tyres and buckled alloys because of a "monster" pothole outside an Aberdeenshire village yesterday.
The crater opened up on the A90 Aberdeen to Dundee road near Laurencekirk, throwing commuters' journeys home into chaos and causing thousands of pounds worth of damage.
As many as 21 stricken cars were seen pulled over onto the verge with their hazard lights flashing, or parked in a nearby farm entrance, at about 6.45pm.
There were also reports of cars swerving dangerously on the trunk route in order to avoid their vehicles coming to harm.
Road engineers rushed to the scene to carry out emergency repairs to the surface last night, while police officers tried to safely guide drivers around the hazard.
Laurencekirk resident Heather Hope described the scene as she returned to her home in the village.
She said: "I counted 21 cars all on the verge and in the entrance to the farm track. They were all trying to squeeze in there like a jigsaw puzzle.
"It was chucking down with rain and very cold, so you had to feel sorry for the inconvenience caused to these people.
"A lot of them had flat tyres or broken alloys, and we have to be talking about thousands and thousands of pounds worth of repairs now being in order.
"But the pothole was right on the corner, and you would not be able to dodge it if you didn't already know it was there."
The pothole opened up on the southbound carriageway before the turn-off to Laurencekirk, and more motorists fell foul of it as darkness set in.
Ms Hope said she had seen the crevice appear in the road on Sunday, but that it had grown considerably in size by yesterday afternoon.
Potholes commonly occur after bouts of freezing weather as water penetrates the road through cracks in the road then freezes and expands, causing the surface to rupture.
The trunk route falls under the care of Bear Scotland, and engineers from the body attended the scene last night to arrange a makeshift solution.
A Bear spokeswoman said: "Once that has been done, an inspection team will arrange a more permanent repair."
A police spokeswoman added that the pothole had "caused a hazard to road users".